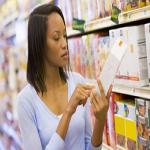 Despite Growing Skepticism, Study Shows Majority of Shoppers Still Read Food Product Labeling There has been an influx of new product labeling guidelines that have either already been or are currently in the works at the United States Food and Drug Administration. Among the most recent and notable changes is the updated Nutrition Facts panel, which now includes a mandatory "added sugars" portion, as well as a bolder, more prominently displayed text.
The issue of product labeling requirements has been a topic of interest among consumers over the past year or so, with many advocating for mandatory, uniform policies and more transparency with food companies and product packaging. Research has indicated that there has been a disconnect between what some people read when they look at a nutrition facts label and what they interpret - sometimes with it having the complete opposite effect than intended. For example, a few months ago researchers found that people who purchased and consumed products that made certain health claims on their labels actually ate more of the foods.
Additionally, there has been a string of high-profile cases of major brands, including Honest Company, coming under scrutiny for misleading labeling or downright false advertising, claiming a certain product is "free" of an ingredient when testing indicated otherwise. Considering these factors, it's easy to understand why some consumers may be growing increasingly skeptical about taking food product labels at face-value.
However, research conducted by The Hartman Group recently showed that a large portion of consumers do still read the nutrition facts label on food products, The Gourmet Retailer reported. Furthermore, there seems to be a direct correlation between how often this information is read and weight management initiatives. For example, the majority, or 81 percent, of people who said they are watching their weight read the nutrition information. Those who aren't focused on managing their weight also take notice of the panel. According to the source, 72 percent of consumers said they read the nutrition-related details and, even if they are not concerned about their diet, 42 percent still read it often.
Factors Influencing Decisions to Read (or Not Read) Food Labels The overarching goal of federal regulators and consumer groups has been to encourage and promote healthier lifestyles and enable shoppers to make more informed decisions. And the above findings highlight the importance of sellers including specific information on product labeling, paying specific mind to nutrition and ingredients. But to better understand what details are most critical to include, it would be helpful to gain a clearer picture of what is motivating individuals to read that portion of the packaging.
The Gourmet Retailer pointed out some of the most common reasons consumers look at the Nutrition Facts label, which included:
They are looking for something in particular, such as fiber.
They want to verify a certain health claim printed on the package.
They recently started dieting.
They are checking to make sure the item doesn't contain a specific amount of something, such as sugar.
On the other hand, there are a handful of scenarios where shoppers do not read this part of the label, such as when they are already familiar with the product or they are only concerned with the list of ingredients. According to the source, some of the most "critical occasions" in which consumers read the ingredients list are when they have a certain food allergy or health issue or are considering a new product brand. Their reasons for not doing so are similar to those cited for the nutrition facts label.
Designing More Effective Labels To ensure that their product labeling practices are in sync with the direction the food industry is taking, sellers and marketers are highly encouraged to be as informative and honest with packaging as possible. Given the above information, when creating custom labels, it would beneficial to ensure the ingredient lists, as well as the nutrition facts labels, are prominently displayed, easy to understand and, perhaps most importantly, accurate. Working with a label printing provider that specializes in the latest industry technology and solutions will make doing so significantly easier, as these partners can offer digital platforms that streamline the design process.
Request your FREE instant quote today.