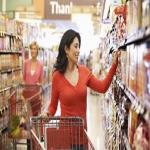 How can you win over customers for your food brand in the crowded aisles of supermarkets? For every type of food and beverage product, there are numerous competing brands; it's up to you to ensure your version is the most memorable and appealing option available. This is where your custom food labels come in, providing differentiation, information and visual excitement.
A Beacon for Your Brand
Shoppers selecting foods in a supermarket setting have a limited set of visual cues to go on. When you make bold packaging choices, you can help these customers make up their minds. Stephen Conroy Food Photography offered a reminder that people are emotionally connected to the colors they see on food product labels, which means your choice of hue could be the most important choice in determining how shoppers react to your goods.
Every selection you make when creating a label is significant. From the font to the imagery and the shape of the can, bottle or box, each of these attributes will play a part in setting your brand's personality. You shouldn't settle for a generic look on your custom food product labels. From the upscale sophistication of minimal design to the lighthearted fun that comes from bold lettering and bright colors, you can set expectations and differentiate your items from competitors' versions.
A Source of Health Information
Your labels aren't just mini billboards for your products; for instance, by including Nutrition Facts panels as mandated by the Food and Drug Administration, you're giving health-conscious customers the dietary data they'll use to select a brand. If you're eager to reach the increasing healthy eating section of the food-buying audience, you can and should emphasize your items' positive attributes, provided you stay within the acceptable limits of health claims.
The FDA rules about label claims encompass a wide variety of nutrients and ingredients, and it's always worth checking to ensure you're complying with these laws when you're promoting the health advantages of any food. Once you've verified your claims, you can update your food labels to remind shoppers that your brand may be a pillar of a healthy diet.
A Priority for Any Food Producer
If you haven't revised your brand's food labeling strategy in years, it's a perfect time to take a second look. When you work with an experienced third-party partner such as Lightning Labels, you can order the exact amount of labels you need rather than dealing with inconveniently large order sizes. Add this convenience to quick turnaround times and top-quality customer service, and the re-labeling process becomes simple.
Request your FREE instant quote today.