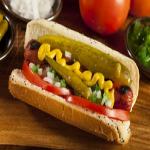 Kraft Custom Food Labels Blunder Causes Mass Recall Kraft Food Group's custom food labels did not accurately reflect the product inside. As a result, the company had to recall about 96,000 pounds of Oscar Mayer Classic Wieners, according to Chicago Tribune. Rather than containing the Classic Wieners, as the food product labels indicated, the packages consisted of Classic Cheese Dogs, which are made with milk. Since the ingredient is a known allergen, the company had to take measures to prevent consumers from getting sick.
Custom Labels and Stickers Must Indicate Known Allergens The custom labels and stickers issue was discovered by a consumer in mid-April, Tech Times reported. So far, no adverse reactions have been reported as a result of the mistake. However, when companies make products with known allergens, they are required to list them on product labels. There are two different Kraft products under recall, including individual packages of Classic Wieners Made with Turkey and Chicken, Pork Added," and "Classic Cheese Dogs Made with Turkey and Chicken, Pork Added, and Pasteurized Cheese Product." Consumers are advised to note products that contained "Est. 537H" as the establishment number.
Request your FREE instant quote today.