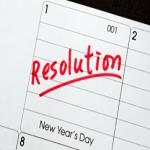 Use Label Design Ideas for New Year's Resolutions to Increase Sales
Take advantage of the spirit of self-renewal when thinking up label design ideas for New Year's resolutions. Because consumers are changing their habits, certain markets open up at the beginning of the year. This is a good time to create new custom product labels that help those with new resolutions take steps to reach their goals. With a savvy design scheme, you can use labels to attract new customers and strengthen your relationship with existing fans. Losing weight is one of the top resolutions that individuals make every year. This means athletic gear, healthy foods, beverages and nutraceutical supplements could be in high demand over the next few months, especially if they're packaged with the right labels.
1. Be Informative When Labeling for New Year's Resolutions
When labeling for New Year's resolutions, provide helpful tips for those hoping to live healthier lifestyles. On food labels, include recipes for wholesome dishes. Food product labels can also be used to communicate ideas for exercises or stretches. Demonstrate that your brand is a helpful informational resource for those hoping to become more active in the New Year.
Other types of companies can join in too. Since supplements and sports beverages tend to support healthy lifestyle changes, utilize label space to provide advice on how to eat more nutritious meals or how to target nutrients that optimize energy.
2. Use Motivational Colors in Product Labeling for New Year's
Alert customers that you're on their side by visually changing product labeling for New Year's. Making small changes in wording and color can go a long way in attracting the attention of a new customer group. Certain colors are more likely to motivate people to get moving. For instance, studies have shown that the color green has beneficial effects on the psychology of people exercising. Being shown pleasant images of outdoor green spaces during a workout has shown positive effects on mood.
3. Provide Encouragement on Labels
If you sell a product that can help people reach their goals, create a promotion. For example, if you create a healthy cereal, give consumers a discount after they have purchased a certain number of boxes. Offer a free giveaway that will help customers reach their goals, like a pedometer. Brands can also include blank charts on health product labels that will help customers monitor their own progress by keeping track of meals and exercise routines. Another simple way to help is to provide motivational language that lets consumers know that your brand supports their activities. Saying "you can do it" provides positive reinforcement that will make customers want to continue purchasing your products.
Request your FREE instant quote today.