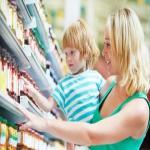 Want to grow your brand's sales? One of the best ways to do so is through label design and packaging. What your product looks like on store shelves can make a big difference when it comes to attracting shoppers' attention and making the sale.
A great deal of research reveals how effective various facets of product appearance can be, including package shape, label, color, and other elements. Some, like a study in the Netherlands, have sought to understand the relationship between package design and consumer behavior in an effort to influence the adoption of more sustainable packaging. Others have investigated the role of nutritional labeling required by governmental regulations.
In general, however, many of the same principles that apply to fields like advertising, fashion and the fine arts are just as relevant when it comes to effective label design. Here are some ideas to help get you started promoting your brand.
Brand identity and logo. Major global marketers have already learned from years of experience that a well-recognized brand image not only reinforces customer loyalty but also uses the power of association to conjure up pleasurable memories to create new sales. A prominent logo helps in this process.
The wonderful world of color. Never underestimate the role of different colors in consumer decision-making. Some colors have a natural connection with certain products or concepts, such as blue labels used for bottled water or green labels for recyclable items. Other examples include using red for clearance items or communicating a sense of urgency. You can find meanings for all the colors in the rainbow fairly easily thanks to online articles by marketing experts, psychologists, and designers like Zeven Design.
Fonts and typefaces. The lettering used on labels can run the gamut from whimsical to elegant, high tech to casual and everywhere in between. Label design trends often reflect the culture at large and specific audiences that a product is being marketed to. However, despite the nuances of product personality (like an outrageous, "fun" reputation), the font still needs to be legible and functional. When a shopper walks down an aisle of hundreds of craft beers, for example, and your typeface is too artistic or intricate to be easily readable in a short amount of time, then the opportunity for a sale could disappear due to misdirected creativity and disregard for practicality.
Ask your supplier. Often, label specialists like Lightning Labels have years of experience and in-depth expertise to guide you in creating the kind of attention-getting labels that produce results in a competitive retail environment.
Request your FREE instant quote today.