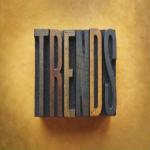 If your brand has spent the past few years employing an unchanging label design, it may be time to consider the new packaging trends that have sprung up and make 2019 the year for a visual makeover. Even if you have committed to a redesign relatively recently, it's worth determining the overall direction of the packaging space. Cutting-edge concepts could help your products stand out on store shelves, winning over shoppers in the new year.
The following are four labeling trends worth noting and potentially using in 2019:
1. Sustainability will sell: According to branding firm Jam&Co, consumers are interested in reducing their waste. Companies that employ recycled materials in their labels, or focus on packages that can be reused will have an advantage in perception over brands that are more wasteful. The design firm emphasized that even a small change such as using thinner materials or otherwise making packages smaller can have a positive connotation in the present, earth-friendly era.
2. Dual-tone simplicity has potential: As creative network 99 Designs pointed out, brands are using simplified visual palates to make shoppers take an interest in their products. This may mean draining the color from labels and employing just black and white. The striking contrast between those two hues creates a "powerful and incredibly versatile dialogue," according to 99 Designs. On crowded shelves, brands can stand out by cutting out all extraneous design elements and making this elegant combination work for them.
3. Packages may tie in with influencer marketing: Since labeling is a type of advertising, it makes sense for your brand to consider how your packages fit into your overall ad strategy. Jam&Co reported that with influencer marketing on the rise, companies can and should consider how their products will look when featured in photos and videos posted by popular personalities. Today's labels should look great during a filmed unboxing.
4. Companies will look backwards: When your brand is looking for design inspiration, it may pay to look back a few decades. Vintage looks are fashionable, and 99 Designs reported this trend will continue in 2019. People who want authenticity in the products they buy are attracted to labels that look and feel old fashioned, which may influence your choice of font, imagery, material and finish.
Label packaging design in 2019 will remain an essential part of overall marketing, and one worth focusing on. Working with a specialized partner such as Lightning Labels can give your brand a boost to begin the new year with confidence.
Request your FREE instant quote today.