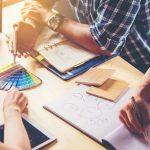 Small business owners who sell physical products must consider the intricacies of branding and labeling. Building a business that generates and maintains success depends in large part on brand recognition and the impression that the public holds of your brand overall. The quality and appearance of your product labels plays a significant role in your branding. Learn how to leverage product labels for small business to brand effectively.
Where to Start
Effectively branding product labels for small business can feel like a daunting task. With so many details to sift through and various technical points to keep in mind, small business owners easily become overwhelmed by the prospect. However, with just a few key considerations in mind, small businesses can create beautiful and on-brand product labels that match their business goals perfectly. Follow these five simple steps to get started creating product labels for your small business.
1. Define your brand and what it stands for
Your brand is the heart and soul of your business – the factor that sets you apart from similar products and companies. Building a brand that consumers will recognize and appreciate is just as important as developing a high-quality product. While your product itself is an important aspect of your brand, it hardly helps you if your brand is indistinguishable from others and blends in with the crowd. The last thing you want your brand to be is forgettable.
Most successful brands thrive on a basis of storytelling and memorable style choices. Taking time to define the way you want your brand to be perceived is crucial for the remainder of your branding and labeling decisions. Think through aspects like:
Brand values: Are you a food or beverage brand that focuses on the health of your customers? A bath and body shop that promotes self-care and relaxation? A cleaning product company that's all about sustainability? Whatever your values entail, ensure that they are represented loudly and proudly in your branding.
Mission statement: To ensure you are clear on your values and the mission behind your brand, sit down with company stakeholders and your marketing team to workshop a mission statement. This statement may be included on your label itself, or it may simply help you gain a more thorough understanding of your brand and the aspects you need to include in your marketing.
Once you have a clearer idea of your brand and all that it stands for, you can more easily create labels that speak to this mission.
2. Get to know your ideal customer
The only aspect that rivals the importance of knowing your own brand is understanding your ideal customer. Once you thoroughly define who you are as a brand, it's time to dive into exactly who you're speaking to with your product messaging.
In order to define and get to know your ideal customer, consider the following questions:
What problems does your product solve?
Who will most appreciate your brand values and mission?
How does your product stand out from the competition? Which customers will be looking for this differentiated product?
Where does the demand lie? Conduct market research using surveys, interviews, and focus groups.
What does your ideal customer care most about?
Getting clear about the demographics and preferences of your ideal customers will allow you to pursue your branding efforts efficiently.
3. Pick the style
Your labels should reflect who you are as a brand while encompassing the priorities of your ideal customers. For example, if you make eco-friendly cleaning products and place a focus on sustainability, you may have identified earth-conscious individuals as your ideal customers. As such, your branding might include natural colors, motifs like leaves or trees, and elegant fonts that reflect a down-to-earth style.
Regardless of the images and fonts you choose, keeping these consistent across your labels, ads, websites and product lines is crucial. Fostering brand recognition is not only about choosing the right style to represent your products and speak to your ideal customers, but also about nurturing a consistent image that customers can recognize and reach for again and again.
4. Find the right shape, size, and material for your product label
In addition to the style, your focus on the branding of your labels should also address the shape, size, and material of your labels. This is the aspect in which function and style must intersect when it comes to product labels for small businesses. The shape and size of your label will largely depend on the packaging and the product itself. For example, if you sell small bottles of custom hot sauces, you likely won't be choosing a very large label size. Likewise, the shape of the product packaging will narrow down your options for label shapes.
The best label material for your product will depend on the design you hope to execute and the priorities you wish to convey through your labeling. For example, sustainable label materials such as kraft recycled labels and biostone labels can help drive home your mission statement if you're a brand centered around sustainability. On the other hand, if your product labels need to withstand temperature changes, moisture, chemicals or other tough conditions, you'll likely deliver the best customer experience through materials such as BOPP. This durable material will provide a clear, easy reading experience for years to come.
Ready to get started on your new product labels?
With careful planning and up-front strategy around your brand identity, creating labels that will speak to your ideal customers doesn't have to be complicated.
For help creating high-quality custom labels, partner with Lightning Labels today!