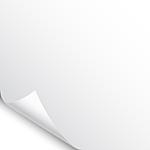 PET or paper liners? What is the best choice for you? No matter what, Lightning Labels has your "back!"
PET, an easily-remembered acronym for polyethylene terephthalate, is a thin, clear polymer material used in many products and industry applications—including various containers and pressure-sensitive product label films and liners. PET production is growing exponentially worldwide. Many product manufacturers are replacing paper liners with PET because its benefits are clear. (Yes, the pun is intended!) For certain uses and applications, paper continues to be the best choice.
Why pick PET over paper?
♦ It's stronger, thinner, and lighter;
♦ Less waste in production and application;
♦ More labels on a same-sized roll;
♦ For imaging and finishing processes, PET enables more accurate and reliable die cutting and it can be fed faster when a deadline is on the line. This translates to better application rates in a high-volume inline environment, resulting in better uniformity and consistency;
♦ It's resistant to moisture, and nicks and tears in label production;
♦ Lighter weight helps contain rising delivery costs
When to pick paper over PET:
♦ It's easy to tear so there's no need for scissors;
♦ It's a bit thicker and easier to handle when removing labels by hand one at a time—or meeting another challenge where a bit more heft is required.
Why choose Lightning Labels?
Since our founding in 2002, we've been a printing partner you can rely on through it all—including staying ahead of supply chain challenges and other problems affecting global commerce. All label materials are sourced from within the US to expedite delivery. Among other advantages, that means we'll have both PET and paper liners at the ready when you're ready.
You get the same great products and service every time you order. And we get it right—delivering on time, on budget, and on target with your specs and preferences. Key to this success is a Dedicated Account Manager who works with every customer to develop the best ways for products to stand out on the shelves and in the store.
We invite you to work with a printing partner dedicated to doing what's best for your brand—and helping you achieve your business dreams along the way.
Request a free quote today