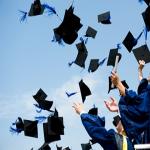 Create Labels For Graduation Gifts to Grow Sales This Spring
Matriculation season is fast-approaching and creating labels for graduation gifts could be a good way for brands to gain sales as the weather gets warmer. From stickers for gift bags to graduation water bottle labels, making themed favors is a smart idea in the coming months. College, university, high school and possibly even younger students will all be getting their degrees, which means there will be commemorations taking place across the country. Parents, friends and loved ones will be excited to have gatherings in honor of the students who have worked to hard to get through the school year. For brands that make beverages, candies and other items that typically show up at celebrations, making graduation-themed products could be the perfect way to boost sales as the summer begins.
Make Graduation Water Bottle Labels to Keep Party-Goers Hydrated
Graduation water bottle labels can make even the barest necessities look like party favors. Most celebrations will include some alcoholic beverages, but keeping water on hand can help keep your guests happy and engaged in the festivities. Encourage party planners to pick up packages of water bottles by making them graduation-themed. These aren't just useful for parties - colleges and universities can also provide them for students to sip on during the long ceremony or give them out afterwards. The recommended amount of water per day is eight glasses no matter what the circumstances. With the champagne and other beverages being passed around, chances are more hydration will be necessary. There's no reason water bottles can't be festive, too!
Graduation Party Labels Make the Experience More Fun
There are a number of different products that make celebrations more fun, so why not put graduation party labels on all of them? Water isn't the only thing people will drink at a celebration. Try making other custom beverage labels for events. Soda, wine, beer and especially champagne bottles can be oriented toward graduates, and so can ice cream, baked goods and other sweets. No successful party is complete without party favors, so creating some matriculation-themed packages of candy or toys can encourage party planners to thank guests with a little something. Brands can print labels for thank you cards for when the celebration is over.
On the other hand, graduation season isn't just about parties, but gift-giving, which means that anything from body products to candles could be packed with a graduation theme. Make sure to cover all the angles when preparing for graduates this spring.
Request your FREE instant quote today.