'Simple Truth' Line Features Straight-Forward Custom Product Labels
Custom product labels that reflect key product qualities and/or demonstrate appeal to a particular audience make it easier for consumers to make a buying decision.
[caption id="attachment_7649" align="alignright" width="280"]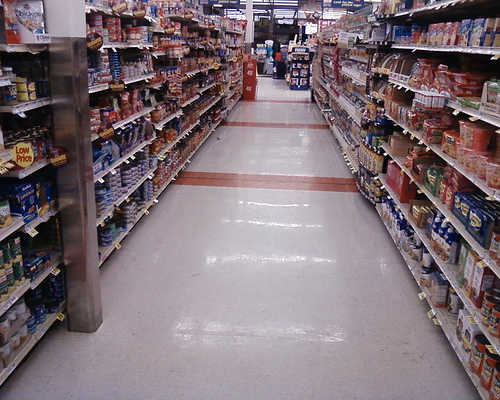 Labels for products in Kroger do their best to stand out.  Photo: Rob Stinnett, Flickr Creative Commons[/caption]
For example, Kroger supermarkets promote their "Simple Truth" line of natural and organic products. Their custom product labels generally emulate this simplicity with green as the primary ink color on a clean white or off-white background.
Their idea is seemingly simple: Look simple to promote the simplicity of natural and organic products (e.g., purity unadulterated with a bunch of complicated ingredients/processes). It also connotes affordability—simple product, simple price.
While Simple Truth obviously is designed to appeal to a variety of age groups, certain niche products may find success with niche-designed labels. How about a product label appealing to millennials that features nothing except a QR code and spartan information? Obviously, this focuses on a mobile-savvy marketplace while tending to exclude baby boomers and the like.
Make Product Label Printing Count
Here are some other ways product label printing can say volumes about an item's qualities and uses:
Reinforce resilience. Products promoting healthful resilience need to feature labels impervious to water, oil and other environmental contaminants. Although subtle in some cases, a label that won't stand up to the elements may convey to the buyer that the product won't stand up to its quality claims either.
See red or go green. Printing labels on coated or uncoated stock can be extremely impactful to their appeal. A product wanting to promote environmental friendliness and conservation is much more likely to resonate if the label is earthy looking and feeling—with softer colors and a non-slick-looking stock. On the other hand, products promoting vitality and va-voom (in essence exhorting the marketplace to see red, a passionate color) will want to maximize the stark, slick, powerful nature of the product—likely meriting vibrant colors on coated stock.
Be artsy or scientific. For those developing nutraceuticals, there can be the dilemma of whether to develop an artistic, flowery label or a scientific-looking one. Examine your marketplace and desired outcomes. With homeopathic remedies, for example, one argument holds that the more scientific the labeling, the more professional and "scientifically valid" the remedy may appear to be to a wider range of the population. Others could hold that the remedy's appeal largely to a metaphysical audience warrants a more whimsical, artistic look.
Get in shape. Tie label dimensions and shapes to the product message and use. For example, make a label for a weightloss product tall and skinny. When promoting bodybuilding products, consider a beefy and broad-looking label. Organic certified products can reinforce their position with a label shaped like a certification seal.
Use Labels for Products That Send a Strong Message
From earth-friendly labels made of corn to vibrant colors and effects, labels for products offer the opportunity to convey and reinforce many key messages, both about product quality and attributes. When you're ready to review or renew your options in the label arena, we stand ready to help.
Request your FREE instant quote today.