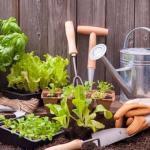 When your ideal customer profile is an avid gardener, you need to think extra hard about how you'll design your products' labels. After all, garden products are typically sold and stored outdoors and exposed to the elements. This means you'll have to select the ideal label materials to make sure the products still look great even once buyers get them to their own yards and flower beds.
Fortunately, no matter what types of items you're selling for gardeners — plant seeds, tools, fertilizers or any other products that need to be stored outdoors — there is a strong label material that can help you create great lawn and garden packaging.
Designing Lawn and Garden Labels
When it's time to create label designs for gardening products, you'll need to consider a few different aspects of the process. First, there are the necessary disclosures associated with any product label. This means labeling the size, weight and quantity of your products. If it's a potentially toxic fertilizer, you'll need to produce warning labels. If there are regulations around a plant or herb, your seed packet label should reflect that fact.
Next, you can add some more fun elements to your product labels. Are there special offers associated with gardening equipment or plant seeds? Do you have helpful ideas to share with an amateur gardener who's buying each different variety of herb or plant seeds your brand offers? Are there growing instructions that will help the plant thrive?
On seed packets, it can pay to print a color picture of the full-grown plant. Not only will this give a gardener ideas about how to lay out a garden, it's also a great way to catch eyes in stores, with bright blossoms and leaves.
Plastic Garden Tags — Labeling Each Different Variety of Plants
In addition to product packaging, there is another side of garden label design: wooden plastic labels placed in gardens by herb and plant beds, showing off individual plants of each different variety. While it's customary to sell blank plastic or wooden stakes for each gardener to write the plant name on with a paint pen or marker, you could also sell labels that will help hobbyists label their plants.
There is a middle ground, too: It's possible to sell blank labels of a shape and size that will be perfect for sticking on wooden or plastic stakes in a garden to label the various plants.
Picking Weatherproof Label Materials
Whatever type of garden labels your brand is working on, there's one especially important consideration: You should make sure your label material of choice is strong enough to survive in the elements.
Creating weatherproof labels may mean selecting a BOPP label material with a gloss finish or going with an even tougher vinyl label material. By adding an ultraviolet-resistant finishing treatment, you can craft a label that will maintain a sharp appearance, even if the product in question is sold, stored or used outside.
This need for weatherproof materials is especially important in the case of labels to apply to plastic or wooden stakes that mark different types of plants or herbs in a garden, as these markers have to be legible outside, potentially for years at a time.
Choosing an Ideal Label Printing Partner
When your brand works with Lightning Labels, you don't just gain access to a variety of tough, weatherproof label materials and finishes. You also gain all the advantages of digital label printing, including fast turnaround times and flexible order sizes.
When you need to create lawn and garden custom labels that will stand the test of time and appeal to your gardening clientele, Lightning Labels is the ideal choice. Request a free quote now.