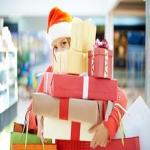 The holiday season can be a double-edged sword when you're trying to get your products noticed on store shelves. There will be plenty of shoppers walking the aisles, hoping to buy a gift for a loved one or just get something for themselves while holiday sales are going on. On the other hand, this vast potential audience will have plenty of eye-catching items to choose from. Standing out in such a crowded field can feel like a losing battle.
The Power of Labeling
Custom product holiday labels can be the method that gives you an edge over the competition, showing off your brand's personality and making a statement. Whether you opt for custom holiday labels that trumpet their association with the season or just use this chance to create a bold new brand template overall, this visual shake-up could be what your business needs.
The following are a few elements of product labels that can be tuned for maximum memorability.
Imagery: What's pictured on your holiday labels, and how good do those images look? The answers to those questions can sway buyers' interest. You can stoke local pride with high-resolution pictures of your own region or headquarters, or opt for a stunning illustration. Holiday-themed visual cues can remind buyers that your products would make great presents.
Materials: People who buy items in person aren't just judging labels by images, colors and fonts. A unique feel and texture to a product can enhance the effect it creates. Maybe a shiny chrome polymer is the ideal match for your brand's personality. Alternately, the compelling feel of a matte finish or the earthy touch of a recycled material could be better.
Your Biggest Commercial Battle
When shoppers are out en masse, you have plenty to gain from winning attention. Lightning Labels can provide the holiday labels that help your brand stake its claim. With all-digital printing and attentive customer service, you'll get your order quickly and with no hassle.
Request your FREE instant quote today.