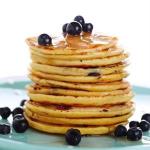 Maple syrup is the natural sweetener everyone can agree on. Who doesn't love syrup on French toast, or a stack of fluffy pancakes for breakfast? When syrup is your business, you have a great product to promote, but it won't sell itself. There are a few seasonal and one-off opportunities that can turn into great showcases for delicious maple syrup, with perhaps the most obvious being National Maple Syrup Day, December 17.
Labeling Makes the Sale
Leading up to National Maple Syrup Day, you can employ custom bottle labels that name that special date, as well as listing recipes, fun facts or info about where your products come from. Combining fun imagery with clear, bold and compelling text is a great way to attract shoppers. People may go to the store looking for syrup but not positive about what brand to pick. The promotional copy you place on your maple syrup labels can be the deciding factor. For instance, if someone sees a great recipe on the back of a bottle, they'll be tempted to take that specific brand's syrup home.
Tapping Season Approaches
While National Maple Syrup Day is approaching, you can think further ahead and plan for the food labels that will adorn next year's bottles. Tapping season 2018 is only a few months away. Taking a long-term approach and creating a compelling look for next year's syrup is a way to improve shelf appeal well into the future.
Pick the Right Printing Partner
Getting custom food labels in time for the holiday season may seem impossible - the time of year is here. However, Lightning Labels' combination of digital printing, domestic facility locations and attentive customer care means your order can be at your company's door in days, not weeks or months. Check out our Instagram page for looks at some of our favorite syrup labels and ideas.
Request your FREE instant quote today.