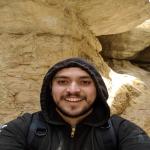 Marco Escarcega makes his presence known by what he does rather than what he says. The shift lead/die cutter on the second shift works hard and observes much. He notes, "I've watched the company grow rapidly since I started here in August 2017. The most noticeable growth I've seen is the number of employees working here and more equipment."
He also is very observant about the company culture, pointing out that "Our management is friendly and always willing to help when needed. And, my co-workers, along with management, are awesome. Marco emphasizes that this provides a comfortable and supportive work environment, something that has become even more critical with everything that's happened in 2020.
He adds that the pandemic has impacted his life and livelihood by making him hyper-aware of the threat of contagious diseases. "Obviously, the current crisis has required wearing a face mask. I also find that I'm afraid to sneeze or cough in public, something that I wouldn't have been so concerned about before COVID came on the scene."
Overall, Marco says he feels the "new normal" has been fairly normal for him. His role necessitates him being on-site versus working from home. Although the number of people in the plant has decreased as work-from-home became necessary, Marco notes that his day-to-day routine feels substantially as it did pre-COVID. There are many co-workers moving around busily, and with around-the-clock shifts, there's always considerable activity. In part, this is due to Lightning Labels' designation as an essential business supporting essential product lines with their custom label needs which have blossomed and grown through the pandemic.
From his vantage point, Marco sees that overall operations have actually improved through COVID. He points out that everyone is dedicated to being as productive as possible and contributing to the best of their ability, and some processes have become more efficient in response to COVID-related developments.
He adds that co-workers and management alike seem to appreciate the importance of their jobs even more now, and there's an enhanced sense of community to help one another.
When he's not busily running around at work, Marco explores the outdoors. He particularly enjoys hiking, camping and lake-swimming.
"I see the desire to pull together and support one another everywhere, even when I'm exploring the outdoors," he adds. When he's not busily running around at work, Marco explores the outdoors. He particularly enjoy hiking, camping and lake-swimming.
Request your FREE instant quote today.