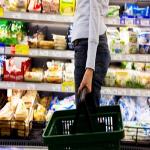 Food Labels: What Do Consumers Want to Know?
Any food product could be described, accurately, in dozens of different ways. Knowing which types of claims are most interesting to your consumers, and allowed by government regulations, could transform your labeling strategy for the better. A preoccupation with healthy eating and nutrition is one of the major shopping trends animating present-day consumers, and when it's time for a label refresh, you can implement these elements to improve your offerings.
Stating the Obvious?
The power of perception and phrasing when it comes to food product labeling became clear in University of Illinois research, according to Agri News. In the study, consumers were asked which promises meant the most to them. The responses were surprising in that "organic" ranked at the bottom of the priority list, while claims such as "no growth hormones" dominated. There is a special kind of significance to this being the top choice, as growth hormones are actually banned in farm-grown products.
The researchers noted that the study results show the potential value of making claims on food package labels. Brands that note they have no growth hormones in their food products may have more appeal than those that don't, despite the fact that neither company uses any of those substances, as they are both in compliance with the law. According to Agri Business, there is actually a stipulation that companies claiming "no growth hormones" have to note in small print that of course there aren't growth hormones, as the government prohibits them.
Customer education on what different terms mean may change the landscape of favored packaging labels. Agri Business reported that Breanna Ellison, the study's lead researcher, pointed to the "organic" distinction as a case in point. When a meat product receives such a label, it means the animals in question were not subjected to many of the processes consumers were asked about - yet they still ranked those individual assurances as more important than "organic." More knowledge about what organic means when not applied to fruit or vegetables, but to meat or poultry.
Preferences and Requirements for Food Labels
Sometimes, terms consumers want to see and legal requirements become intertwined. Genetically modified organism labeling is an example of this phenomenon. Agri Business noted that "non-GMO" is the No. 2 concern about food contents, just following growth hormones. Of course, the presence or absence of GMOs has also been a legislative priority over the past few years. The Fence Post recently reported that the Department of Agriculture is currently working on a compliance schedule and rules for disclosure.
The Fence Post explained that the new administration's chief agriculture aide, Ray Starling has restated the USDA's intention to follow the schedule for labeling rules laid out by congress. That means that by July 2018, there will be clarity about how companies have to state the presence of genetically modified ingredients. The actual roll-out for related labels, however, will be later to allow manufacturers to comply. Starling clarified that the USDA following the law and finalizing the standard won't result in unfeasible compliance deadlines.
Mandated and Intentional Changes
Whether your brand changes its food labels to comply with new disclosure rules or as a direct attempt to appeal to a new audience, there's a need to partner with reliable third parties on such projects. This is where Lightning Labels comes in, providing high-quality labels and not requiring large minimum order sizes. That latter fact means that even when changes are mandated, you won't be left with unusable rolls of outdated labels. Transforming your products' look to foreground their natural bona fides can become a powerful differentiator for your brand, promising your audience that their nutritional needs are being met.
Request your FREE instant quote today.