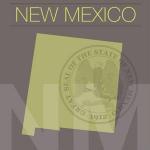 New Mexico may be about to join the list of states with a recreational cannabis market. Due to the fact that legalization policies differ by state, both in their text and how quickly they progress from bill to law, it's impossible to put an exact date on New Mexico's regulatory changes at the moment.
However, if you are interested in taking a place in the state's cannabis market, now is a good time to prepare. Settling issues such as creating procurement strategies for custom cannabis labels in advance makes you able to move more quickly when the time comes.
What is the Status of Legalization in New Mexico?
The governor of New Mexico, Michelle Lujan Grisham, has publicly placed recreational cannabis legalization on her state's agenda for 2020. According to Forbes contributor and marijuana policy watcher Tom Angell, Lujan Grisham has asked lawmakers to create a legal framework for recreational sale and use, at which point she would sign the bill into law. She has recently signed another bill that decriminalizes marijuana possession.
The Associated Press noted the measure passed the New Mexico House of Representatives in 2019 and is now being considered by the state Senate. The debate is not being carried out strictly along party lines, with a few Republicans supporting the bill and opposition from some Senate Democrats.
The proposal under consideration is based on a task force's recommendations with a key difference - as written, the bill allows people to have a small amount of marijuana grown at home rather than purchased at dispensaries. Sales of recreational cannabis at New Mexico's stores would provide tax revenue earmarked for law enforcement and public education about the risks of intoxicated driving. The bill has passed the Senate Public Affairs Committee and is now with the Senate Judiciary Committee.
How Can Recreational Cannabis Entrepreneurs Prepare?
In every state with a recreational cannabis market, there are a few things each company must have. One of these is an effective and compliant warning label strategy. Use directions and risk alerts, ingredient lists, and package features such as barcode labels that describe the provenance and test results of cannabis products differ in their specifics, but they are necessary everywhere.
Lightning Labels has been working with cannabis companies since the early days of medical use, and can deliver the durable, attractive and compliant labels companies need. Businesses anticipating the beginning of recreational sales in New Mexico should prepare to team up with Lightning Labels for their packaging needs.
Request your FREE instant quote today.