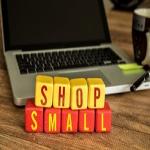 If you operate a small business, the holiday shopping season is both exciting and daunting. The months of November and December are great for reaching customers, but involve heavy competition between your firm and larger, wealthier corporate entities. While days such as Black Friday and Cyber Monday have to be shared with these large competitors, there is one special event just for independent companies: Small Business Saturday. The holiday falls on November 25 this year, and it's time to prepare special promotions to maximize its appeal.
Promotional Labels Spread the Message
"You can emphasize your company's bond with its region, or spotlight your own background."
With Small Business Saturday on the way, you can get the message out about your products by adopting customized product labels. There are plenty of different approaches your packaging can take when establishing your company's independence and unique identity: You can emphasize your company's bond with its home city or region, or spotlight your own background as the owner and operator.
Whether you explicitly mention Small Business Saturday on the product labels or simply stick to a general promotional strategy, colorful imagery and vibrant text will make your products stand out on the shelves. If you sell your items through other retailers instead of owning your own store space, you can still promote the holiday, especially if your distribution focuses on small, local outlets.
Custom labels for products can go along with stickers for windows, or bumper stickers to hand out to shoppers. Deploying a Small Business Saturday labeling strategy as far in advance as possible may get consumers excited to return on November 25, either to receive special bargains or simply to promote local companies through their patronage.
The real message of Small Business Saturday is that in an era of massive, online-first companies with the ability to ship globally, there is still value in working with the shops and producers that operate independently. These benefits come from great customer service, personalized attention and careful craftsmanship, among other traits. Your custom labeling strategy can emphasize your firm's ability to provide such value.
Order as Soon as Possible
While Small Business Saturday isn't here yet, your labeling strategy can begin at any time. With Lightning Labels' all-digital printing processes, your order will arrive in a matter of days, rather than weeks or months. Getting ready for Small Business Saturday in advance means you can build excitement and awareness, ensuring your regular shoppers are ready to browse on November 25. In a busy holiday season, you shouldn't miss this opportunity to carve out a special space for independent companies.
Request your FREE instant quote today.