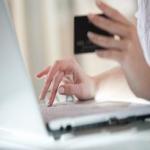 Ordering labels is one of the processes that must go smoothly to get products on shelves in a timely manner. If your small company is struggling with packaging, the repercussions on general efficiency could be severe. When you work with Lightning Labels, however, ordering labels online becomes easy and convenient, allowing you to focus your attention elsewhere.
Ordering Labels Online - See the Advantages
Getting custom labels online from Lightning Labels grants financial and operational advantages. Managing online accounts is easier than ever, meaning you can re-order from any PC or mobile device. Turnaround times are swift, with orders processed within 48 to 72 hours of proof approval. Flexibility is also on your side. You can get the exact amount of labels you need, from 50 units to 15 million.
It's easier to get excited about ordering labels for your products when costs are low. Lightning Labels can help there, too. Ordering digitally printed labels takes away the costs associated with traditional methods, such as set-up, plate and color fees. On top of those savings opportunities, ground shipping to the U.S. and Canada is free for online orders.
Keep Your Business on Track
The many complex processes of keeping your company going all add up, and simplifying any element can be a major victory. That advantage is yours when you get your labels through Lightning Labels.
Request your FREE instant quote today.