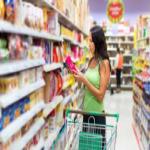 When it's time to create custom food labels, it's natural to spend time and effort on imagery, typography and other design elements. Those aren't the only considerations that go into creating a great-looking package, however. You also need to select a material and a finish, and while some foods and beverages are best served by glossy finishes, others look best with matte labels.
Matte Labels for Foods
When making labels out of common polypropylene polymers, you have to decide whether to go for a glossy look, the default and least expensive option, or opt for matte. Matte's "natural" character may make it better for your brand. When you're selling healthy or unprocessed foods, a shiny label that feels laminated may send a contradictory message.
Matte label usage helps your brand reach customers through a potentially undervalued sense - touch. People will be able to feel the difference between your products and glossier alternatives, and that may help them decide which brand to buy.
Many Options Available
When you order matte food labels from Lightning Labels, you gain control over the material, finish, size and quantity of the final product. By using all-digital printing methods and working from domestic facilities, Lightning Labels is capable of offering quick turnaround times and flexible order sizes.
Request your FREE instant quote today.