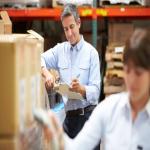 Discover the Uses of Custom Inventory Labels
Labels on your products aren't just for your customers' benefit - label elements for internal use can be very important in their own way. Sequentially numbered labels or barcodes on your products can ensure that no matter how ambitious your storage and warehousing methods, you can always ship products where they're needed, when they have to be there.
Visibility is Key
When you need to know where items are in your supply chain, labels can represent the key. In today's increasingly digital business world, you may be looking for labels that are recognizable by electronic means. Alternately, you can opt for inventory labels meant to be sorted by hand. No matter how you label your items, the effort of getting organized can have a serious impact on overall efficiency.
Here's how to keep track of inventory:
Barcode labels: When you print internal-use barcodes for use in warehousing and other steps along the supply chain, you help your company and its partners keep products moving from one stop to another. Using standardized barcode labels means quick scanning at various locations along the way, from manufacturer to shipper to retailer.
Sequentially numbered labels: Do you want to keep track of where individual products are in storage, to track batches of a product or watch the inventory level of a limited-edition product? Stick sequential labels on your merchandise and it instantly becomes more identifiable and visible.
Properly labeled inventory is easy to find when needed.
A Trusted Partner
When thinking about custom labels for internal use and merchandise tracking, you can turn to Lightning Labels. Well known as a producer of attractive, consumer-facing branded labels, it can also keep your brand's products organized on the back-end. With a reliance on all-digital processes, Lightning Labels prizes speed and flexibility - order minimums are low and customer service reps are ready to deal with any and all issues. Changing the way you label your inventory doesn't have to be difficult.
Request your FREE instant quote today.