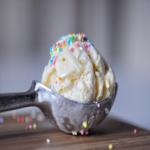 When your product demands a cold environment in stores, your labeling requirements are different from the average business's needs. Unless you find durable labels, your branding won't last as long as it needs to. This is where Lightning Labels can step in, delivering great-looking packaging for your ice cream or other frozen treats this summer.
July is a perfect time to purchase new product packaging labels for your ice cream products, because it's National Ice Cream Month. These weeks, set aside to celebrate frozen treats, can yield new limited-time flavors or simply bold and attractive imagery to remind customers to pick up your everyday offerings. While you may believe there's no need to tell people that ice cream tastes great in the summertime, a little reminder wouldn't go amiss.
Pick Your Labeling Strategy
If you've decided to launch a new flavor  to celebrate National Ice Cream Month or the summer in general, a new label design is a natural addition to your brand's offerings. You simply need to ensure that it matches a distinctive, can't miss appeal with enough continuity that buyers tie it in with the rest of your line.
Even if you're not branching out with a new flavor, a custom label strategy based on National Ice Cream Month is a fine way to drum up excitement and attention for your brand. Potentially, the packages could even have a functional element to their design, listing desert recipes that make use of your ice cream. This time-tested strategy can encourage people to take the products home and follow the instructions.
"You have to employ durable labels so that they'll stay visible and vibrant."
If neither of the aforementioned ideas fit your strategy, you can simply execute a line-wide redesign. That may be enough to catch the eyes of consumers in the frozen foods aisle, especially if you make use of colorful and compelling imagery. You have to make sure, however, that you employ durable labels, so that they'll stay visible and vibrant after months in a freezer case.
Lightning Labels Can Help
You have your choice of label materials and finishes with Lightning Labels, including those capable of resisting the moisture and cold temperatures associated with ice cream. Combine this with lightning-fast turnaround times enabled by an all-digital printing process and you've found the ideal partner for your brand's next redesign, whether it takes place during National Ice Cream Month or not.
The warm summer months are made for ice cream, and your brand can launch promotional campaigns during this time for a perfect storm of attention and excitement among customers.
Request your FREE instant quote today.