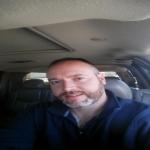 Lightning Label's lead production specialist Pedro Rodriguez, a Lightning Labels employee for seven years, enjoys an "active lifestyle." At work, he is involved in everything production-related—including completing reports, scheduling daily jobs, overseeing shipping each day, checking print, die-cutting (including supervising his son, also a Lightning Labels employee), and rewind progress, and making sure all deadlines are met. Oh, and when someone is sick or taking the day off, he's the go-to guy to cover the position if no one else is available.
"I'm like a handyman everywhere, floating everywhere. I make sure everything is running the way it's supposed to be," he says.
He also stays active at home. His son, daughter and two grandchildren aged 4 and 18 months live with him. His daughter runs a daycare facility in the home, so "by the time I get home, there are several kids still there besides those in the family. I spend time with my family every day." Needless to say, that's a recipe for staying on your toes.
Even when Pedro takes time out for recreation, he stays on his toes—literally. He's an avid jet skier who camps regularly with his girlfriend and family. His favorite spot is Chatfield Lake.
In addition, he's an avid action movie goer and his main hobby year-around is to go to the gym and do weights, play basketball and swim, at least five days a week. He got his "sea legs" at the age of 5, taking swimming classes and visiting such far-away destinations as a beach in northern Spain.
He's emphatic about the importance of safe swimming. "My girlfriend has a little granddaughter. She wears a safety vest no matter what. And we're getting her into swimming classes," he points out.
Pedro is a native of Chihuahua, Mexico on the border next to El Paso, Texas. "I just went to Chihuahua last month to visit my parents and brother, and go hiking," he points out. Even though he's been in Colorado for 27 years, the Hispanic culture he grew up with in Mexico remains in place. "We keep our kids until they want to find their own homes. That's part of the Hispanic culture. They do their own stuff; I do my stuff. We have plenty of room," Pedro points out.
Request your FREE instant quote today.