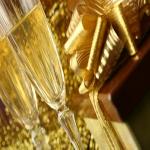 Festive Times Call for Custom Wine Labels
When the holiday season rolls around, it's time for people to meet up with friends and family, and many of these gatherings involve a drink. If you own a wine or champagne brand, you should distinguish your products with packaging to ensure they have maximum appeal and seem like good selections to bring to parties or give as gifts. New Year's Eve parties typically conclude with a champagne toast - are you doing enough to ensure that your brand is the one people bring with them?
Stand Out from the Pack
When shoppers go to stores en masse to purchase items for the holiday season, they often leave the house with no fixed idea of what brand to buy. Your wine and champagne offerings can therefore win over customers simply by standing out visually. Each brand has a unique identity, and your labeling strategy should play into yours. Are you going for a rustic, classy look? Is your image sleek and modern? Do you want to use customized wine labels that actively mention the holiday season, or simply effective designs that will look good even afterwards?
Once you square away these questions about brand identity, it's time to purchase wine labels custom-matched to your specifications. It's important to ensure that in addition to on-point branding, the labels are of sufficient quality to impress potential buyers. High-resolution printing is a must, because even the best design can be undermined by ugly or low-quality production techniques.
There are plenty of events coming up that you can directly market toward, if you decide to go with a seasonable strategy for your wine labels. Openly suggesting that your champagne is great for consumption at New Year's Eve parties is one approach, as it tying the brand in with winter or holiday imagery. However, bottles given as gifts often linger on shelves for a long time before being opened. If this is the kind of market you're aiming at, it's probably best to stick to season-neutral pictures and messages - but a visually compelling redesign is likely worth pursuing, even if you aren't eager to promote a particular holiday.
Get Started Now
One question about holiday promotions remains - is it too late to get these initiatives underway and have them matter before the holiday season? The answer is that it's not too late, provided you work with a fast and effective labeling partner. Lightning Labels can deliver batches of custom wine labels in a hurry, due to its domestic production facilities and all-digital processes. The choice of digital printing also means its possible to receive affordable rates on smaller orders, a key point if you want holiday messages on a limited number of bottles.
There are shoppers heading out to stores now wondering what kind of wines and champagnes they'll buy as gifts and bring to parties. This is your target audience for the remainder of the year, and you want to serve them the most visually appealing and impactful message possible. Custom labels are a key ingredient in this kind of strategy.
Request your FREE instant quote today.