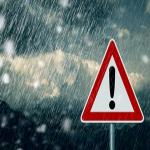 Tough Labels Will Survive Harsh Weather
When it's time to design labels for your products, you have to think about how those items will be used. If they're going to be out in the elements for any extended amount of time, it's vital to ensure they're made of a tough material. This is extra-important now, as winter approaches. Luckily, there are plenty of great options out there. Work with a third-party partner such as Lightning Labels and you can have weather resistant labels and stickers ready to go before winter's chill comes to town.
The Toughest Materials
When you're designing cold weather proof labels, it pays to work with white flexible vinyl, a material that will survive even when exposed to the elements for a long time. If you anticipate your products are likely to be used outside this winter, it's time to invest in such a substance, or else you risk losing the visibility granted by labels that stay in place. Even once spring comes around, white flexible vinyl remains a good choice if durability in outdoor conditions is something you require.
In addition to products' packaging labels, it's possible to add a little additional information by applying cold weather stickers. The same thinking applies here as to labels: If you want these stickers to survive for long periods of time in outdoor situations this winter, it's best to pick a tough material and a printing partner such as Lightning Labels that can ensure your order looks great.
Ideal Designs
Once you've picked a material that won't peel off or fade, even when enduring tough weather, it's time to ensure your chosen imagery and text are compelling and will catch customers' eyes. All-digital printers such as Lightning Labels can produce bright, high-quality designs that look great, even on tough materials such as white flexible vinyl, which frees you up to work with whatever imagery you think best expresses your brand's value proposition.
When it comes to cold weather labels, it may be best to use tough, outdoors-centric imagery that matches the strong materials you've used to make the labels themselves. People will realize at once that your products will see them through the winter when you use this type of message, especially if it's printed on a label that doesn't peel or fade even as the snow piles up outside. Your product labels and stickers are the face of your brand, and doing a good job keeping them vibrant through the tough winter can make a powerful impression on potential buyers.
There's Still Time to Order
Winter is almost upon us. Does that mean you'll have to wait until next year to deploy your cold-weather labels? Not if you work with Lightning Labels. The nature of Lightning Labels' all-digital processes and U.S.-based facilities enables fast turnaround times that get orders into buyers' hands in a matter of days instead of weeks or months. If you want to ensure you get tougher labels or stickers onto your products this year instead of next, there's still time. No matter what Mother Nature unleashes this year, you want your products' branding to stay strong.
Request your FREE instant quote today.