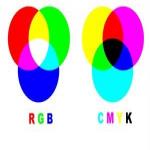 Preparing label artwork for printing is a relatively easy process, especially when your company works with an experienced third party such as Lightning Labels. There are a few quick steps involved in turning your product label art into the kind of compelling packaging that will catch customers' eyes. By following these tips, you can bring your designs from concept to physical label with no extra hassle.
Be Sure to Proofread
Before sending files in for printing on custom labels, you should make sure they're free of artwork problems or typos in the text. Once the pre-press process gets underway, there are extra charges associated with changing anything about the design. It's best to go over the imagery carefully and repeatedly, well before that becomes relevant.
Pick Format and Resolution
The artwork for labels should be exported as .ai, .pdf, .psd, .eps, .jpeg, or .tiff. You can use Adobe Illustrator, Photoshop, Acrobat or InDesign to make those files, and the native .ai,.psd or .pdf formats are preferred. When you export artwork, it must be at a resolution of at least 300 DPI. Compressing the files into .zip, .sit or other similar formats will help you upload them - such high-resolution imagery can make very big files.
Get Fonts and Colors Right
All fonts should be converted to outlines, to make sure missing font files on the printer's end don't cause problems. Vector graphics are preferred over raster graphics. When graphics are in a vector format, the colors are solid and mathematically generated, enabling faithful reproduction. Lightning Labels prints CMYK colors. Images with RGB colors will be converted, which can cause differences to appear. You may also want to create a "white layer" in the image file to show where you want the label to have white ink, rather than just a lack of color.
Order a Free Press Proof
To make sure your labels are going to turn out perfectly, you can order a free press proof. You pay the postage, but the process itself is offered at no charge. You'll see a copy of your new label, allowing you to ensure every part of the design has successfully made it into print. This is especially important if, for instance, you've submitted RGB or Pantone colors that have been converted into CMYK equivalents.
Today's brands are using elaborate and compelling artwork as labels to draw shoppers in. Your brand's competitive edge on the shelves may depend on how good you become at printing label artwork. Lightning Labels can help you excel.
Request your FREE instant quote today.