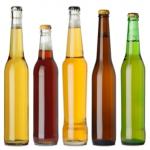 Winning customer attention in crowded beer aisles may come down to label design and branding. Customers eager to try a new brew have little information to go on and a limited time to make a selection. When your label looks like nothing else on the shelves, your brand of beer may stand out from both independent competitors and global macrobrews.
The craft beer industry has been based around these principles of originality and distinctiveness from its earliest stages. As more breweries have popped up around the world, each bringing their own exciting-looking offerings, the need for creative custom beer labels has only escalated. The following are a few approaches taken by today's craft beer contenders.
Working with Design Studios
Coming up with an iconic look for unique craft beer labels is a process that should be handled with the utmost seriousness. That often means turning to professional designers. The CBC reported that Bellwoods Brewery took this approach, replacing an earlier look that managers at the company deemed "generic." The new version evokes classic concert posters, using woodblock-print-styled imagery to give each variety of beer its own identity.
Collective Arts has gone one step further and turned label design into a contest. It solicits submissions from artists, pays out prizes and uses the winning pieces on short-run cans of beer. Having one's work featured on beer is considered a great opportunity, and the brewery has received thousands of entries.
Creating Labels In-House
Sometimes, brewers don't have to look far to find their label designers. Amherst News profiled a brewery called Trider's Craft Beer that works with one artist for all of its label designs. Joe Potter, who owns the brewery with his wife Laura Parker, called on his brother Ken to create the designs. Having a close connection with one designer allows the company to get a consistent and tailor-made series of custom labels.
The CBC pointed to Four Winds Brewing Company as another example of an internal designer creating a successful look. That creator, Justin Longoz, sees his distinctive designs as key pieces of advertising, ones that encourage onlookers to pick up the bottles and look more closely.
Getting the Right Labels for Your Needs
Once you've gotten the designs for your beer can labels squared away, there's one more question to answer - how do you turn ideas into physical items? Working with a committed third-party partner such as Lightning Labels is the easiest way to bring concepts to life. High-quality all-digital printing allows you to get the labels you need at a speed that works for you.
Request your FREE instant quote today.