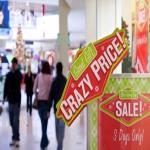 The holiday shopping season is a great time to build up your brand's image with revised product labels. Whether you're debuting limited-time items that will only be on the shelves for a few months or just want to add festive cheer to your primary offerings, there's a way to make holiday product labels work for your business.
Now is the time to think about getting ready for the holiday season. While top-quality partners such as Lightning Labels can turn orders around in a matter of days, there's no need to handle Black Friday preparation at the last minute. Taking a considered, strategic look at the way custom product labels can elevate your brand in the years ahead can yield valuable results.
Special Products Make a Splash
There's a real excitement that comes with a limited-run item. Consumers know that they have to pick up these products now, or else they'll miss out, and this adds urgency to your marketing pitches. Whether it's a time-sensitive food or beverage flavor or a holiday-centric version of another product, a short-run release deserves a festive and bold label.
Limited edition labels convey the fact that the product won't be around forever, and can explicitly tie it to the holiday season. You can even employ serially numbered labels to inform consumers that they are one of a small group savvy enough to get that particular product while it is on sale.
Bold Labels for the Whole Line
You don't have to produce limited-edition goods to make labeling a big part of your holiday marketing push. There's plenty of room to decorate normal products with seasonal custom labels or stickers. When you work with an all-digital printing partner such as Lightning Labels, minimum order sizes are small, meaning you can select just the amount of labels you need: This counters the potential headache of unused holiday packaging at the end of the season.
Giving your items a festive makeover can take many forms. Maybe your logo can get a holiday makeover. If you are in the food business, you can offer up seasonally appropriate recipes. Numerous kinds of consumer goods producers can go with custom stickers that remind people items make good presents. The possibilities vary widely and extend to many different industries.
A busy peak commercial season is coming up, and brands can meet these months with exciting promotional techniques. Custom labels are one of these options, and represent a way to make products feel fresh. People will be shopping actively, so it makes sense to reach out to them through custom packaging.
Request your FREE instant quote today.