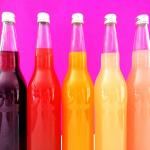 The Importance of Quality in Labeling Adhesives
When it comes to designing a custom label for product packaging, there are many different factors to take into consideration. Of course, you want to make sure that is it visually appealing and attention-grabbing. But it is also crucial to ensure that the right material and adhesives are used. Failing to do so could result in premature cracking, peeling and deterioration and, ultimately, impact how consumers perceive your item.
Not all labels are created equal. What looks and performs well on one container may not be the greatest choice for another. But unless you are familiar with the various options available to you, how they are made and what environments they work best in, it can be quite difficult to ensure you have selected the appropriate one for your specific product. Most sellers aren't specialists in this area, which is why we want to provide you with a short yet informative guide on the top label adhesives to use for certain applications.
Factors to Consider
Before deciding on which label application is right for your product, there are a few factors you'll want to take into consideration, such as:
 Container shape and size: The shape of the package will affect which label makes the most sense. For example, if you are selling round bottles, you may want a wraparound label. The measurements of the container are also important because knowing this information ahead of time can help ensure you design an appropriate fitting label.
Application method: A label can be applied in one of two ways - automatically (machine) or manually (hand). It should be noted that, generally, you can have either permanent or removable adhesives. Permanent labels can be used in a wide range of applications and, therefore, are a common and affordable choice. But since a permanent label's removal can damage the package or surface to which its applied, removable adhesives should be used by, for example, those creating sticker labels or window decals.
Adhesive properties: The bond of a label adhesive is affected by things like temperature levels and exposure to water or humidity. Therefore, it is essential that you take into account where, how and when your products will be used in to ensure you choose a material that is designed to withstand the intended environment. The type of pressure-sensitive adhesive that is best to use will depend, in large part, on the material of the surface it is being applied to.
To break it down even further, it might be helpful to learn some of the technical terms and jargon used in the labeling process. Gaining even a broad understanding of common label-related terminology can strengthen the communication between you and your printing company, thereby enhancing the overall experience. Below are the three main layers that make up a label:
Substrate: Also referred to as the stock, this is the external, outermost part that words and images are printed on. It is what shoppers see and comes in a variety of materials, including paper and film.
Adhesive: The next layer is the adhesive, which is the sticky agent that bonds the label to the container or package. The strength of adhesives varies and will affect whether or not a label can easily be removed, etc.
Liner: The liner is the base material that you peel the label from, commonly made from Kraft paper.
Best Types of Labels Based on Surface Material
The kind of label adhesive you should use depends on the material of the product container. Generally speaking, if you are selling household, cosmetic or personal care items, you will probably be working with plastic, whereas if you are using the labels for beverage or wine bottles, you might use glass - although this is not always the case. Either way, below are some of the best label options to consider depending on its intended use.
Plastic
If you need a label that is water and oil resistant, white BOPP labels are one of the top choices for permanent adhesives. They are a commonly used material that is suitable for most types of applications - including beverages and personal care products. A clear label version is also available that will make it look like it is not even there. For containers that need to be abrasion and water resistant, such as the tubes or bottles commonly used for lotions or cleaning products, squeezable label materials work best because they include a layer of flexible yet durable film.
Glass
When a removable label is needed, for example for window decals and stickers, clear and/or removable BOPP labels offer a suitable product. However, if you're looking to use a paper stock for, say, a wine bottle, classic crest or Estate #9 labels may be the better choice. Both of these options provide a more textured appearance. But, because neither can be laminated, they are not water resistant.
By taking the guesswork out of the labeling process, you can more carefully plan the design and creation of your product labels. The more information you have, the better the decisions you will make.
Request your FREE instant quote today.