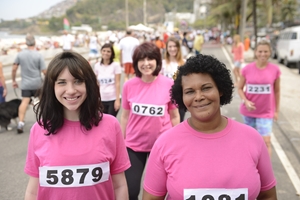 Personalized Stickers for Breast Cancer Awareness Month
Personalized stickers can be used by a wide variety of charities to help build awareness for their cause and may aid them in fundraising, getting people involved as volunteers and other such mission-critical tasks. When it comes to charitable foundations, garnering exposure is key to success and powers all of their other activities.
With Breast Cancer Awareness Month currently ongoing, charities should be actively considering the goals of their current initiatives and then considering what they can do to achieve these objectives. As The Guardian noted, many organizations actually do a poor job of setting goals for themselves, which results in them being unable to accomplish their objectives.
These goals do not have to be overly technical - they can be as simple as a single sentence, such as maximizing event attendance. They do, however, have to be clear and actionable. In the previous example, charities can then go about finding ways to raise awareness of events and deploying initiatives to get people to come and participate.
Utilizing Personalized Event Stickers to Accomplish Objectives
Personalized event stickers can be used by charities for a number of distinct purposes and because they are so versatile and inexpensive to use, nonprofit organizations should consider all the different potential uses.
For example, say charities want to sell products and donate the proceeds to breast cancer research and treatment. They can use product stickers to mark which items are a part of the promotion, which allows customers to pick the products that qualify if they want to contribute to the cause. Charities could also use specifically designed stickers for limited-run products that will only be sold during Breast Cancer Awareness Month.
Or, if charitable foundations want to promote an upcoming event, they could send personalized event stickers to people on their donation list via direct mail. This not only informs frequent donors of the upcoming event, but it also gives them a way to advertise the event to other people. For example, recipients could mount stickers on community event boards or place them on their equipment at work to raise even more awareness.
Custom Stickers: The Perfect Solution for Charities on a Budget
Perhaps the best thing about custom stickers in the context of nonprofit organizations is the fact that they are not expensive, yet they are incredibly powerful tools. Compared to other promotional mediums, such as radio or television ads, sending a few stickers to contributors on charities' lists is not very expensive.
Request your FREE instant quote today.