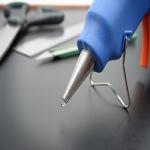 Recycled Labels Are Rustic and Eco-Friendly
Craft labels have to shoulder a lot of weight. When you turn your crafts into a business, you're entering a marketplace full of established companies. While these big producers tend to have copious marketing budgets, your items' packages are often your main way of getting your message out. You need to make sure your labels are as effective as possible at communicating your brand identity.
That identity may be aligned with eco-friendliness, responsible consumption and handmade rather than mass-produced goods. If so, earth-friendly recycled labels like those from Lightning Labels make the perfect finishing touch for your craft project's look. Giving this distinctive aesthetic to your items can position them effectively within your particular market, carving out a space to thrive. March is National Craft Month, which means it's an appropriate time to focus in on your homemade items' branding and help them live up to their potential.
Green Labels Set The Tone
Authenticity and responsibility can set your small brand of products aside from the corporate giants making similar products. Creating a unique visual style will help enhance your appeal, and recycled labels can accomplish this feat. Working with Lightning Labels, you can get high-quality, durable labels made from one of several post-consumer-goods materials. Some of these have a rough feel that underlines your natural credentials and plays up your items' handmade nature, while others are sleek and versatile, allowing you to pick any messaging style you choose.
Eco-friendly labels are especially helpful when your brand stands up for green causes publicly. Using sustainable materials in craft product labels shows that you aren't just talking about the issues, but actually following through on your values. This kind of unity of messaging and packaging can give consumers the confidence they need to take a chance on a small, local brand of products. Once you've convinced shoppers to buy an item once, the quality of your products can convince them to stay.
Saluting the Craft Professionals
Creating crafts is a passion shared by millions around the world, but not just anybody can turn a hobby into a thriving business. Your decision to make the jump is an admirable demonstration of your confidence in the products. It's great to back this confidence up with ideal packaging solutions which will help ensure your hard work doesn't get lost in the shuffle. During National Craft Month, it's a great time to either launch a new business based on handmade products or revise the labels of your current offerings to maximize their appeal.
Eco-friendly labels are one way to update an item and make sure it gets noticed. If that doesn't fit your brand's plans, Lightning Labels can still help. The company offers a huge variety of custom label materials and finishes. Even if your products need tough labeling solutions - for instance beauty products stored in wet bathrooms or candles, giving off heat - Lightning Labels is a partner you can turn to. Craft products are an exciting corner of many a market, and if they're labeled well, they can really stand out.
Request your FREE instant quote today.