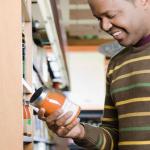 Building a Better Food Label
If it's been a while since your most recent food labeling changes, your food or beverage brand may be missing opportunities to appeal to consumers. In the aisles of grocery stores, your items are sitting next to similar offerings by competitors - sometimes these rival organizations will be much larger, with deep pockets and more advertising dollars. If your products don't look good next to these alternatives, it may be hard to win shoppers over. Fortunately, there are a few rules of thumb that can help direct your food label design philosophy.
Custom Food Label Design Best Practices
Creating aesthetically pleasing food packages should not be an afterthought. This is an important and distinct area of your branding, with major implications and its own unique practices. Food Navigator recently spoke with branding expert Simon Thorneycroft about the guiding factors that can keep brands on track when they redesign their labels.
The most central point Thorneycroft made is that companies' food labels must convey a brand identity rather than just being easy on the eye. A distinctive look is one that stands out, creates emotions in viewers and is memorable. Creating imagery with all of these traits isn't easy or automatic, but food manufacturers that succeed at these objectives may find themselves picking up sales based solely on their products' distinctive look.
Losing a connection to a product's real nature is a danger when companies get too caught up in complicated branding, according to the expert. He told Food Navigator that beautiful labels that neglect to actually depict the product within may not be helping their brands close the sale. He compared them to amusing and entertaining commercials that are unclear about what they're selling. Such assets may earn positive reaction but not move any units.
Combine Many Inputs
A great package design will appeal to multiple senses at once. Food Dive recently asked the question of what makes an interesting and appealing package. Consultant Alan Moskowitz told the source that the best designs get across a number of different facts, all at once. Rather than one single element of the label striking a chord with shoppers, there should be a unity between all the information displayed. From nutritional claims to color choices, everything matters.
Moskowitz also noted that there's a technological element behind great packaging today. With the ability to use new materials in labeling print runs, and to contract shorter print runs than ever before, brands have the ability to get creative in ways they haven't before. Even huge brands such as Coca-Cola have had success with short print runs of unique-looking labels, meaning the concept of experimenting and personalizing has been tested and validated at the highest tiers of the mass market.
Responding to Changes
Of course, no matter how good your design sense is year-round, you have the potential to increase tour appeal by changing things up even further. A natural extension of the power of customization and short print runs, seasonal promotions can become a calling card for your company. There's always a holiday or special date tied to your product that you can celebrate. From tying a healthy product into an awareness month to showing regional pride with a local-themed design, there are infinite ways to transform your product's look.
Changing design elements with the seasons while still keeping some iconic branding elements in place can become a winning strategy for food and beverage brands that want to stand out and expand their appeal while not alienating their existing consumer bases. Such an approach would lead to waste and unused labels in an era of high minimum orders, but the age of all-digital printing has changed the basics of production. Companies that want to try on new identities - or keep up with regulatory changes affecting elements such as nutrition facts - have a way to do so.
Find a Custom Food Labeling Partner
Working with Lightning Labels is an easy choice for companies that want to embrace great graphic design without being tied to large minimum orders. With high-quality, all-digital printing processes, Lightning Labels can ensure your food or beverage brand's unique logo and colors come through clearly. Combine this with a commitment to customer service and easy, quick shipping from domestic production facilities instead of outsourced factories and it's clear: You can get the custom food and beverage labels you need, no matter what type of strategy you have in mind.
Request your FREE instant quote today.