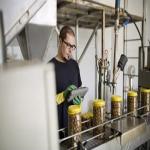 The right labeling approach for your business will likely depend on the scale of your operations. Are you packaging a few products in-house, or has your operation adopted automation as it's increased in speed and scope? Custom sheet labels and roll labels are the two main types of production, and the difference is mainly important when it comes to applying the labels to products.
The good news is Lightning Labels offers both custom roll labels and sheet labels, depending on your preference. The default option are roll labels, wound around a three-inch core. This is a standard size that will make it easy to use an automatic applicator, whether you go with a simple hand-operated machine, a completely automated system or help from a third-party partner.
Hand Application: Sheets May Suffice
When is it viable to receive labels on sheets instead of rolls? Generally, this option suits smaller companies that produce items in limited quantities. Sticking labels on products by hand is easy when the labels are presented on flat sheets instead of rolls. Lower-volume orders are possible from Lightning Labels due to its use of digital printers. With no upfront plate charges, as would be incurred in flexographic printing, you can get the number of labels you need at a price you can afford, down to a minimum of 50.
Automatic Application: Roll Labels are Standard
The reason Lightning Labels' standard labels come on rolls instead of sheets involves the usefulness of the automatic application. When you need to apply large quantities of labels quickly, the machinery will call for roll labels. Furthermore, it's easy to pick labels off of rolls for hand application, meaning there's no major downside to selecting this delivery method, even if you plan to apply some or all of the labels manually.
The variety of shapes and sizes of labels available on these rolls is significant. Lightning Labels uses custom dies to cut labels into the shapes and sizes requested by clients, and the amount of options on offer is always growing. Once you've determined what kind of labels will look best on your products' packages, ordering is easy.
One element to consider is unwind direction. This variable concerns how the labels are oriented on the roll, and whether the top, bottom, left side or right side of a label comes first. The right unwind direction for your products will depend on the applicator you use to put the labels on your products and doesn't make a difference in hand application. If you use an automatic applicator - or plan to - determine before ordering which unwind direction is right for you.
When you work with Lightning Labels, you can get the combination of size, shape, quantity, material and finish that suits your products - on a roll or a sheet.
Request your FREE instant quote today.