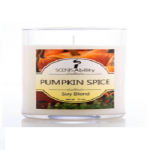 Talk about win-win! Florida-based ScentsAbility, a Lightning Labels partner, has become a major soy candlemaking and scented products manufacturer whose workforce is comprised of young adults with intellectual and developmental disabilities. Everyone benefits—from the youthful workforce able to expand their horizons to consumers looking for beautiful, environmentally-friendly holiday candles.
Judging by the joy experienced by their people to joyful reviews landing them an aggregate 4.9+ approval rating on Google, Facebook and Yelp, ScentsAbility indeed scores high on the holiday happiness meter!
AOL also has jumped on the bandwagon, interviewing the ScentsAbility team for its video series "Holiday Heroes." The report begins, "Every holiday has its unsung hero, and AOL's video series 'Holiday Heroes' highlights those individuals who are making a difference in their communities…When Bonnie Schmidt's daughter, Jessica, suffered a permanently debilitating seizure at 6 weeks old, Schmidt and her husband came up with a way to give Jessica and other young adults like her a productive life."
Under the care of Founder Schmidt and Development Director Denise Anderson, the young people create products and learn the business side of the company—including using a cash register/computer to ring up a sale, stocking shelves, and counting money. Development of social and fine motor skills is part of the workday along with tending to everyday tasks and medical needs.
She adds, "We hope that someday ScentsAbility will permit hundreds, even thousands of individuals with intellectual and developmental disabilities to become more active and independent, to develop discipline, to be productive and proud of what they can achieve. Our mission is to light the path to independence, one candle at a time."
Relationship with Lightning Labels, the Custom Candle Label Specialist
To continue growing the brand and employment opportunities, ScentsAbility is now focused on building partnerships and relationships with companies. One of those partners, Denver-based Lightning Labels, recently donated 50,000 candle labels to the company.
Schmidt emphasizes, "The labels that Lightning Labels donated have transformed our candles. The material used is durable, bursts with color and does not smudge with handling…The quality of our product is now on the same level as the largest candle companies. The labels are the first impression our customers see, and Lightning Labels has given our products an incredible professionalism that we could never have afforded to do on our own…Our scent designs pop now and give customers a wonderful visual experience…Lightning Labels' generous support has given ScentsAbility the 'ability' to compete in any market."
ScentsAbility is a 501 (c) 3 non-profit organization that helps individuals with intellectual and developmental disabilities (IDD). Their mission is to provide job training, employment and housing for young adults with intellectual and developmental disabilities. Visit the ScentsAbility store, 11480 W. Sample Road, Coral Springs Fl 33065; or get more information: www.scentsability.org, [bonn[email protected] or [email protected]], 954-234-4405.
Request your FREE instant quote today.