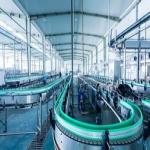 When you customize a Lightning Labels order, you don't just gain control over the content that will appear on your product packaging. Materials and finishes are also selected for each order to suit the exact kind of role you want the finished labels to fulfill. If you manufacture items that are commonly sold, stored or used outside, getting
durable labels
is a must. Unless you make the labels tough enough to withstand the elements, your branding may fade prematurely in the face of moisture, ultraviolet rays or other outdoor hazards.
Creating Water- and Weather-Resistant Labels
Lightning Labels takes such a comprehensive approach to customizable products that you don't just have one single durable option when selecting a material. There are multiple substrates that act as great bases for durable labels. Picking one of these means defending your imagery, information and other label contents against the elements, and you should make a selection that suits the environment where your products will be commonly used:
White flexible vinyl: Of the many materials offered by Lightning Labels, flexible vinyl is the strongest. Thicker than polypropylene, it is a material that will stand up to the elements, even if the products are stored outside for long periods of time at once.
Squeezable film: This white film is 3mm thick and is designed to be tough - not only is it one of Lightning Labels' chosen materials for weatherproof labels, it also stays in place on product packages after they have been picked up and squeezed. This film is indispensable for labeling bottles meant for repeated use.
BOPP labels (clear, white, chrome and more): This type of polypropylene material is the most common and popular offering from Lightning Labels. Available in multiple styles to suit a variety of branding approaches, BOPP is resistant to both water and oils. Water-resistant labels made from this substance are well-suited to bath and body products, which have to face constant moisture despite their indoor use.
Picking a Finish and Ordering
Selecting a material isn't the last step in the label manufacturing process. You can also choose how the labels will be finished, whether that means lamination, gloss or a more natural matte finish. If your products are designed to be stored or used outdoors, you may want to opt for UV outdoor gloss finishing. The rays of the sun can wear labels down over time, which means it's worth picking a laminated finish specifically to defend against UV exposure.
No matter which combination of finish and material best suits your unique product strategy, you can be sure you'll get the right type and quantity of label when you work with Lightning Labels. As an all-digital label provider, Lightning Labels delivers speed and flexibility in creating your order. You'll receive a quantity of labels that suits your needs, with small minimum order sizes and easy one-stop reordering.
There's no need to settle for product packaging that doesn't stand up to your items' natural environment, whether that is a back garden, a bathtub or anything in between. By combining durable label materials and finishing processes, you can tailor your order to your brand's needs.
Request your FREE instant quote today.