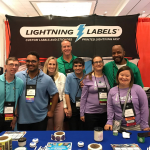 Candlemaker recognizes partnership and support during National Candle Association keynote
Non-profit candlemaker ScentsAbility bestowed the "Light of our Life" award to custom label printer Lightning Labels for partnership and support of the organization's mission to offer job training and employment to young adults with intellectual and developmental disabilities.
At the National Candle Association (NCA) Annual Conference & Expo in June, ScentsAbility Founder Bonnie Schmidt and Development Director Denise Anderson acknowledged Lightning Labels during their keynote presentation. The NCA recognized ScentsAbility as their Conference designated charity.
Lightning Labels also sponsored two ScentsAbility young adults to attend the Conference.
ScentsAbility's presence and influence is growing. An expanding maker of candles and other scented products, ScentsAbility also is becoming more widely known and respected for helping young adults with intellectual and developmental disabilities gain independence and valuable life and work skills. Their commitment includes teaching and facilitating everything from the development of social and fine motor skills to handling everyday tasks such as hand-washing and attending to medical needs.
Notes Lightning Labels Director of Sales and Customer Service Gary Paulin, "ScentsAbility is beginning to hit critical mass with their brand exposure. They have hired a seasoned operations director and are in the midst of a product line rebrand with corporate sponsors stepping up and contributing big time. Our chief contribution has been the development of highly professional and striking product labels. Their success re-affirms the ability to be socially conscious and supportive while building a sound business organization at the same time."
Schmidt notes, "We hope that someday ScentsAbility will permit hundreds, even thousands of individuals with intellectual and developmental disabilities to become more active and independent, to develop discipline, to be productive and proud of what they can achieve. Our mission is to light the path to independence, one candle at a time."
Request your FREE instant quote today.