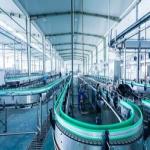 When a product is launched, companies often take the easy route of using sheet labels for production. Small businesses, in particular, find that in-house label printing is more affordable for those initial manufacturing runs of lower quantities.
As demand grows, however, labor-intensive sheet labels become less practical and more of a hassle. That's when it's time to think about switching to labels on a roll. Here are the top five advantages of buying custom roll labels:
1. Automating Your Production
In the beginning, manufacturing a small quantity of products, including applying sheet labels by hand, doesn't take that long for staff to do. As distribution expands, however, you'll start looking for ways to introduce efficiencies into your assembly process. It becomes obvious that some valued employees' time can be better spent on other activities such as sales and marketing, rather than cutting and pasting labels. So adding an automated label printer/applicator to the assembly line begins to make a lot more sense. Systems like this are based on roll labels that are continuously fed at high speed with minimal labor required. The advantages of automating your labeling process include less waste caused by the trial-and-error alignment of labels on an individual basis; more accurate machine-fed label positioning; and reduced label wrinkling, misprints or other blemishes due to human error.
2. Saving Money
Generally, roll labels cost less to print and waste less paper than in-house processes employing label sheets from an office products superstore. Add to that the savings in labor when you eliminate time-intensive hand application of labels. Plus, automated roll-fed labels help speed up the entire assembly process. Because time is money, you can benefit from faster manufacturing and fewer delays getting products out to distributors and customers with labels on a roll.
3. Gaining Versatility
When you're working with roll labels, you can easily print custom product labels in a wide variety of different shapes and sizes to suit your needs. That allows more creativity and flexibility when designing your packaging. You can even do special runs of small promotional labels for sales events and seasonal marketing pushes. The unique label shapes on your products will help set you apart from the competition.
4. Selecting Different Colors And Materials
In addition to custom shapes, you also have a wide variety of label stock options when going with labels on a roll as your label option:
White and transparent materials
Permanent or removable adhesives
Earth-friendly stocks made from recycled content
Distinctive chrome finish labels
Glossy or matte finish paper
Water and oil-resistant materials, which are ideal for foods and beverages, health and beauty products
Plus, high-quality, full-color digital printing offers an infinite spectrum of imaginative possibilities for design
5. Ordering Large Or Small Quantities
Digitally printed roll labels allow you to customize quantities to your exact specifications. Whether it's a short run of labels at an affordable price or larger amounts for high-volume manufacturing operations, labels on a roll make it possible.
When you're ready to switch to roll labels, consult a supplier like Lightning Labels, which has experience with the kind of product label printing that delivers results in a competitive environment.
Request your FREE instant quote today.