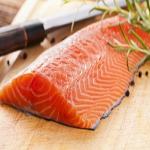 Food Labels On Fish Mislead Consumers
A new report from Oceana, the world's largest ocean conservation group, revealed the results of a two-year investigation into food labels on seafood sold at restaurants and supermarkets. The nonprofit concluded that 74 percent of sushi restaurants, 38 percent of restaurants and 19 percent of grocery stores sold at least one mislabeled fish product.
More Regulations Needed to Combat Illegal Labeling Although the U.S. Food and Drug Administration prohibits falsified labeling of food under the Food, Drug and Cosmetic act, veteran fishmonger Dirk Fucik told the Chicago Tribune that the mislabeling of seafood has gone on for a long time. Fucik said the United States imports approximately 25 million pounds of Vietnamese basa catfish every year but that name is never printed on labels or menus.
To protect consumers, Oceana's seafood fraud campaign director Beth Lowell advises shoppers and restaurant diners to ask questions about their fish. If businesses aren't willing to answer questions about their product or they can't show consumers the whole fish, the retailer may be part of the fish fraud mislabeling, Lowell said.
Request your FREE instant quote today.