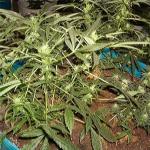 Cops Hand Out Doritos With Product Stickers to Increase Safe Marijuana Use Awareness
At Hempfest, a Seattle festival that celebrates the legalization of marijuana, local police reportedly handed out bags of Doritos with product stickers explaining rules and restrictions that govern cannabis use in the city.
Under Initiative 502, which was enacted in December, adults over the age of 21 can carry up to 1 ounce of marijuana for personal use, the Seattle Police Department blog stated.
The department recently launched "#OperationOrangeFinger," a campaign aimed at increasing awareness of local marijuana legislation. As part of the initiative, police handed out 1,000 Doritos bags featuring stickers that outline what is and isn't permitted under I-502.
Police Get Creative with Custom Stickers on Snack Bags Police Sgt. Sean Whitcomb told CNN the department chose the custom stickers because officials believed they'd be an effective choice for getting the message across.
"We knew if we did leaflets, it would turn into litter," Whitcomb said. "We wanted people to be able to access the information. It's actually fun to read. We wanted to do it in a way that is deliberately ironic."
The stickers included the do's and don'ts of using marijuana. They warned against driving under the influence or selling the drug to anyone under 21. The do's included listening to "Dark Side of the Moon" at a reasonable volume.
Request your FREE instant quote today.