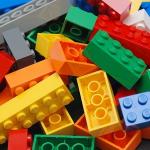 Figures Catcall Through Custom Stickers
Blogger Joe Stearns noticed one of the Lego custom stickers he was looking at in a toy store with his son depicted an unusual phrase and sparked controversy against the popular toy brand. According to The Globe and Mail, Lego has responded.
The company's senior communications director in Denmark replied to the blog post, saying Lego tries to use humor to create a fun experience for children, but the company apologizes for how consumers might see how the figure in question is portrayed on the sticker.
The Lego figure on the controversial sticker depicts a construction worker waving with the phrase "Hey babe!" at his feet.
Consumers Do Not See Small Custom Stickers As Humorous But Stearns says the one small custom sticker is offensive, and many consumers echoed Stearns' concern, according to The Globe and Mail. The newspaper reports that while Lego used to promote gender neutrality, this construction worker sticker once again raises concerns over educating children about gender stereotypes. Some groups and academics see such phrases like "Hey babe!" to be communicating a negative message to young boys about how to talk to women.