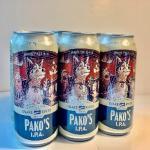 According to Snake River Brewery spokesperson Elliott Wilkins, the brewery has been right at home in Jackson Hole, WY since 1994.
He points out, "The Brewpub is affectionately referred to as 'Jackson Hole's Living Room,' as we have always put an emphasis on serving the local community while creating an inviting atmosphere for visitors far and wide as well. The Brewpub has grown with the town, and that history is quite meaningful for us and the folks that support us, whether they've lived here for 25 years or are just passing through for the first time."
As the oldest operational craft brewery in Wyoming, Snake River Brewery has emphasized quality over quantity. Notes Elliott, "That focus on locality and not stretching beyond our means has allowed us to consistently put out award-winning beers while maintaining our presence as the laid-back, alpine-centric watering hole that folks have made their own over the years."
He emphasizes that distribution focuses on the Rocky Mountain region, especially along the Snake River corridor, emphasizing, "We've done very little in terms of distribution expansion as opposed to the other breweries in town for a couple of reasons. One, our goal is not to be the largest brewery in the area. We want to ensure our focus always comes back to the home market. We work tirelessly at beer, but we don't take ourselves too seriously and folks can feel that when they walk in our Brewpub."
The Brewpub's enduring offerings include Pako's IPA, Snake River Pale Ale, Zonker Stout, and Jenny Lake Lager. Pako's IPA and Hazy IPA dominate among IPAs. "We recently updated our packaged lineup to include a rotating seasonal lager program, which allows our brewers to constantly be working on something relatively new to go with the season. Right now, we're producing the Monarch Pilsner. Once our physical Brewpub is finished with renovations, we'll have the opportunity to kick out more experimental brews on-site," Elliott points out.
Relationship with Lightning Labels, the craft beer digital printing specialist
As part of a 2019 rebrand to keep "aesthetics relevant," the craft beer labels call out locally prominent imagery, ranging from the Tetons behind Jenny Lake to monarch elk and Snake River Brewery mascot, Pako. Notes Elliott, "Our labels are an ode to the natural beauty in the area and that feels special to a lot of people. There's an allure to the 'mountain town' and Jackson is certainly no exception."
Elliott notes, "We try to be highly intentional with how we market our brews and Lightning Labels provided an avenue to realize that. Lightning Labels gave us some fun and truly unique areas of innovation within our marketing efforts to help our packaged beer stand out on a very crowded shelf."
These custom beer can labels are meant to be peeled off provide for easier recycling and reveal a hidden map of the Snake River printed on the can itself. There's also a perforated sticker that comes straight from the label as a fun souvenir "to tag on your outdoor gear."
Request your FREE instant quote today.