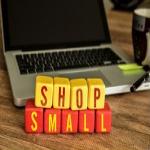 If you operate a small retail business, Small Business Saturday is an important date on the retail calendar. The all-out shopping frenzies of Black Friday and Cyber Monday can end up dominated by the marketing muscle of the usual suspects - Amazon, Walmart and other commercial giants. Small Business Saturday, which falls on November 24 this year, is a day for you and your independent peers to show off your wares and win customers over.
But how will you make sure your company is visible this year? Your promotional muscles should be put to work on the dual purpose of reminding customers Small Business Saturday exists and indicating that your company will be a part of this retail holiday. While it's hard for an independent company to get the budget for a high-profile television commercial, print ad or billboard, you don't need to go for such big-ticket tactics. Custom window decals can be a great reminder for your shoppers.
Capitalize on November 24
How is your company celebrating Small Business Saturday? While you may attract some foot traffic just by being a small company on the chosen day, there's plenty else you can do to get people excited about your products. For instance, it's a great time to hold a sale, or potentially hand out coupons that are good after the New Year, enticing curious customers to visit you again after the holiday rush. Free samples and special decorations may also help your shop get in the spirit of the season.
If you host an on-premises event, you may make your store into a desirable destination for Small Business Saturday. A visit from a local celebrity, an on-site product demonstration, live music, free food - no matter what you do, it should be consistent with your brand's values and encourage people to stick around and buy something.
You might also want to extend your company's hours on Small Business Saturday. Extended hours, alongside sales or special events, are great things to list on custom window decals. These stick-on decals can conform to your company's branding in terms of imagery, colors and fonts while making it clear that your firm will be celebrating Small Business Saturday, and that shoppers who stop in on that special day will receive plenty of extra bonuses for their patronage.
Embrace Custom Window Decals
There's just over a month until Thanksgiving, Black Friday and Small Business Saturday sweep the nation. Does that leave you enough time to get your promotional engine running? It does if you work with specialized partners such as Lightning Labels. Equipped with all-digital printing methods, Lightning Labels delivers fast turnaround times and flexible order sizes. You'll get the custom decals you need, on a schedule that works for you.
The sooner you can put up your Small Business Saturday reminder decals, the better chance you'll have of getting your message across to customers. This is why it's vital to order as soon as possible and receive custom stickers that reflect your branding and promotional strategy. Don't let this year' Small Business Saturday pass you by without making a visual splash.
Request your FREE instant quote today.