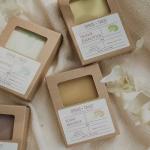 Rosalind Bertram didn't set out to establish a natural health care company. But, after becoming highly sensitive to many product ingredients after exposure to black mold and fiberglass, she passionately pursued "kinder and gentler" options for herself—and her family.
She began her quest to create oral, body, bath, face and beauty care products while pregnant with her first child in 2007. Rosalind crafts products for use by the entire family—including, kids/toddlers, men, and women (safe during pregnancy, too).
Late last year, Rosalind introduced a new makeup line that has received high acclaim for clean ingredients and high product performance. Products include Nutrient Dense Foundation, Blush, Bronzer, Eyeshadow, and Eyeliner.
Rosalind notes, "After a whole lot of trial and error and countless hours of research (which never stops), I can now share all the products that made Sprigs + Twigs what it is today."
Clearly, she has done a thorough job of sourcing and creating not only the best bath and body products, but containers as well. She points out, "Once the technology advances for an airless glass pump, I'll be on it. For now, I've found that plastic airless pump containers are the most stable and clean. Regular glass containers grow bacteria because people always are dipping their hands into them. Safety in all things is my paramount concern and objective."
Considerable early research also went into product testing with her own family. She emphasizes,
"Being able to see and feel the benefits of my own products both during pregnancy and times of skin troubles turned me into a believer. But I wasn't the only one to see results. When my family started using the products and we started noticing improvements in our day-to-day health—even at the dentist—I knew I couldn't keep them to myself. Two more kids and tens of products later, my family uses Sprigs + Twigs exclusively as our daily essentials."
Sprigs + Twigs uses the best naturally derived, organic ingredients from the purest forms of nature. Some products are vegan. Everything in the line is small batch and made fresh, Rosalind points out. All products are available online. Occasionally, select boutique stores carry the line.
Relationship with Lightning Labels, the bath and body product digital printing specialist
Rosalind says, "I was impressed with how quick Lightning Labels responded, meeting me where I needed to be. I came at them with 187 variations. Account manager Anthony was informative, and helped me hammer out details, knowing I was on deadline." They kept me in the loop, even after hours. I had done my own labels previously, but the quality wasn't there with such do-it-yourself problems as label rub-off, smudging and residue. Lightning Labels gave me the quality I wanted, and with the quantity I ordered, it came very close to the same price as do-it-yourself."
Request your FREE instant quote today.