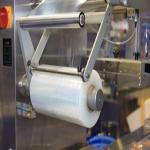 If you're launching a new product, you have to design and create a label. Plenty of steps go into getting the label just right and you shouldn't overlook any of them. For instance, you can significantly improve the appearance of your item's packaging by taking the time to select the perfect label material.
Label Materials - Match Your Product Labeling Needs
There are an impressive variety of label materials on the market, each with its own functional niche. This means one way to pick your perfect label material is to match your choice with your needs.
For general tough packaging needs, try: White or clear polypropylene labels
The versatile BOPP label material is a perfect choice for retail goods of all kinds. Whether you're printing a colorful logo onto the white version of the polypropylene polymer or using the clear offering to highlight the color of the package beneath, you have near-unlimited design options.
One of the most exciting traits of BOPP is that it is water and oil resistant. This toughness means you can use the polymer for applications such as bath and body packaging, where the items are likely to be exposed to damp conditions.
For wine bottles or vintage-styled goods, try: Paper labels
Wine labels are one of the most iconic types of product packaging. Creating a look of lasting elegance for your wine bottles is critical to winning customers over. Paper labels are ideal for these uses, as well as for spirits bottles. If you don't want your wine to feel rustic or old-fashioned, you can use a high-gloss label stock such as classic crest.
Since paper labels are typically not suitable for lamination, they are not suitable when water resistance is necessary. In other cases, however, they can be the perfect final touch on a gourmet food package or other premium item. Strong paper labels can be applied by machine, allowing you to create a quick labeling assembly line.
For labels meant to be taken off, try: Removable adhesive labels
You can create extra value for your customers by applying labels with a removable adhesive rather than the standard permanent version. These removable labels allow buyers to strip the labels of the packaging and keep the bottles or jars for their own use.
Other than switching out the permanent adhesive, removable labels are the same as white BOPP labels. This means they bring all the benefits of those labels, namely their toughness and versatility. Since various smooth surfaces reacts a little differently to adhesives, it pays to try some free samples of these labels to make sure they fit your needs.
For green-branded items, try: Earth-friendly and recycled label materials
When marketing to customers who are interested in conservation and eco-friendly products, you can create a compelling, complete package by opting for earth-friendly label materials. This could mean recycled labels made from post-consumer waste material. These tend to be paper materials with a rough texture perfectly matched to rustic, earthy packaging styles.
There are ways to create eco-friendly labels that go beyond using recycled materials, adding to your options. For example, you could select biostone, which is derived from stone and uses no trees. Alternately, advanced labels made from 50% post-consumer waste and 50% hemp can provide the green boost your products need
Work with the Best
When you select Lightning Labels as your label printing partner, you receive access to every type of label described above, and more. Once you've picked your material, it's time to select the perfect finishing treatment that will keep your products looking and feeling great on store shelves.
Combine this impressive amount of options with the fast turnaround times and customer service that are Lightning Labels hallmarks, and you can find an ideal label style for any product you can imagine.
Request your FREE instant quote today.