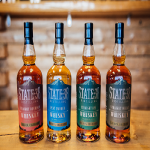 Golden, CO's State 38 Distillery manufactures spirits for consumers who appreciate the finer things in life. Since 2013, State 38 has held a deep appreciation for the legacy of bourbon, whiskey, agave, and other spirits. Based on their growth through the pandemic and beyond, it appears customers hold a deep appreciation for them as well.
Using pure and meticulously selected ingredients—such as local hand-milled grains, organic blue weber agave, and crisp Rocky Mountain water—State 38 provides a uniquely satisfying Colorado experience. Products are available both on-site and in a variety of Colorado liquor stores.
The facility itself represents Colorado on many levels, from the rustic, regionally-relevant setting to hand-built stills and tasting room.
According to owner and managing partner Don Hammond, "We believe in taking the interesting path over the easy path. We are one of a handful of distilleries in the country to make agave spirits from scratch and distill our whiskeys on the grain for more flavor."
After spending 37 years in healthcare, the business man from an entrepreneurial family started looking for a small manufacturing business in Colorado. He'd always been interested in distilling. He took some classes, and wound up partnering with Sean Smiley.
"Sean is a chemical engineer by trade. He recognized my business background and how it could help State 38 grow to next level. With complementary skills sets, we gained a 360 view of the business," Don notes. He adds, "We believe in trusting our instincts and our 'gut.' It's what led us to make all our spirits including Damn Smooth, locally made quality spirits at an affordable price. And of course, we always believe there's room at the bar for creativity."
Don notes that creativity and connection have helped him during the supply chain crisis to stay up to speed on product availability. "It's a daily issue. We have a bottle made in France and two others made in Mexico. When we can get them, we sit on the inventory cost to make sure they're in stock. And great relationships with suppliers has helped, too," he points out.
Relationship with Lightning Labels, the lightning-fast spirits label digital printing specialist
One of those relationships has been Lightning Labels. Notes Don, "Bottle labels have not been a supply chain issue. They've been fantastic. Lightning Labels now does all our labels on 11 products, and they've really done well with representing what we wanted to do with our new brands. From the beginning, their responsiveness, creativity, attention to detail, and pleasantness have been fantastic. They collaborate, coming to the table with ideas. I like people who listen and come up with solutions. Our cost of goods is very critical. They're very competitive in that regard. John Ament gives us a strategy to keep costs competitive."
State 38 Distilling Tasting Room is located at 400 Corporate Circle, Suite B, Golden, CO 80401; 720-242-7219.
Request your FREE instant quote today.