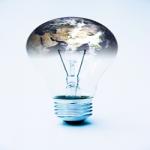 Study Finds Custom Eco-Friendly Stickers Drive Away Conservatives
Products with custom eco-friendly stickers have become commonplace. Many consumers tend to reach for items designated as environmentally friendly, but recent research found that an individual's political leanings influence whether they will buy energy-efficient light bulbs. According to two studies conducted by researchers at The University of Pennsylvania's Wharton School and Duke University's Fuqua School of Business, conservatives are less likely to buy eco-friendly light bulbs than liberals.
Environmentally Friendly Labels Cross Political Boundaries Both studies examined how political ideology affects consumer purchasing behavior in the U.S., concluding that conservatives were less likely to buy compact fluorescent light (CFL) bulbs with environmentally friendly labels. Between the two studies, 867 American consumers of both genders were polled, ranging in age between 18 and 81.
Dena Gromet, a postdoctoral research fellow at The Wharton School and lead author of the studies, sees the distinction in purchasing behavior based on political ideologies to be notable in the current age of environmental advocacy.
"A popular strategy for marketing energy efficiency is to focus on its environmental benefits,"  Gromet said. "But not everyone values protecting the environment. We were interested in whether promoting the environment could in fact deter some individuals from purchasing energy efficient options that they would have otherwise selected."
Request your FREE instant quote today.