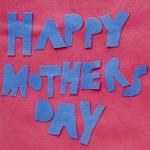 Bath and Body Product Labels Spruce Up Items for Mother's Day
Lightning Labels, custom label and sticker printing leader, is encouraging bath and body care manufacturers to prepare for Mother's Day with custom labels to reach consumers looking to celebrate - and pamper - their moms.
Spring has officially sprung, and with Easter in the rearview mirror, consumer brands should be revving their engines for the next big marketing opportunity: Mother's Day. Every year, U.S. consumers spend $18.8 billion on the holiday, according to FreeShipping.com. Make sure to get a piece of the Mother's Day pie by embellishing products with bath and body product labels.
Because bath and body care products tend to attract a primarily female audience, manufacturers can't afford to ignore the holiday's sales potential. While Valentine's Day may be reserved for candy and jewelry, Mother's Day gifts vary immensely among audience groups. In fact, shoppers who may not normally fit into a business' target consumer audience groups may be among the most valuable customers this season. Whether it's a Dad trying to pick out the perfect gift for his wife, a teenager on a tight budget or an adult looking for the perfect way to treat Mom, bath and body care products are sure to meet their needs if packaged and labeled correctly.
In fact, AskMen, an online magazine, ranked home spa treatment products among its top 10 Mother's Day gifts. In addition, a survey from PriceGrabber conducted last year determined 62 percent of consumers planned to spend less than $100 on Mom's gift, which places bath and body products in the ideal price range for a majority of shoppers.
"High-quality, well-designed labels for bath and body care are a central part of a successful marketing campaign," said AnneMarie Campbell, Business Development Manager at Lightning Labels. "As brands prepare their advertising strategy to reach consumers looking for the perfect gift for Mom, Grandma, aunts and other important mothers in their lives, marketers shouldn't forget to include product packaging that celebrates Mother's Day. Lightning Labels offers manufacturers the opportunity to revamp their products with attractive stickers and labels that command attention in stores and online."
Two More Reasons to Jazz up Products for Mother's Day With Labels for Bath and Body Care Still not sure new labels are in order for bath and body products this season? Here are two more reasons why custom stickers and labels are a wise business choice:
1. Boost Reach, Not Debt with Custom Stickers and Labels In addition to being a successful marketing tactic, custom labels are a smart investment for manufacturers looking to revamp their brand and product image without spending a fortune. Digital labels for bath and body care allow manufacturers to choose from an incredible variety of colors to create the perfect packaging design for their products.
Labels can also feature images, illustrations and practically any other visual aspects to embellish items. Here's the cherry on top: Unlike outdated label production methods, digital printing takes minutes and is extremely affordable. Companies don't have to buy an infinite supply to make their investment worthwhile - Lightning Labels offers great prices no matter the size order. This allows manufacturers to design multiple versions of product labels and test packaging before ordering a mass supply.
2. High-Quality Bath and Body Label Printing at Lightning Speed As May is quickly approaching, manufacturers need speedy bath and body label printing. Lightning Labels guarantees a fast turnaround time to ensure products are on the market in time for Mother's Day shopping.
With that in mind, don't put off creating new Mother's Day designs! Getting newly embellished bath and body product labels on the market soon with ensure manufacturers don't miss out on sales potential among early shoppers.
Request your FREE instant quote today.