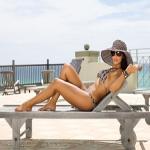 Body-Conscious Americans Seeking Nutraceutical Products for Summer
Losing weight was Americans' most common New Year's resolution for 2015, according to Marist Poll. With the official first day of summer just around the corner and numerous areas of the country already enjoying sunshine and high temperatures, many individuals are scouring the shelves for nutraceutical products to assist them on their journeys toward attaining a beach-ready body.
In a bid to attract these consumers, companies in the nutraceutical sector may want to update their packaging for the summer months. However, before they make any moves to update their custom labels and stickers, they must ensure any and all proposed changes comply with federal regulations.
"[Nutraceutical product labels are] allowed to make claims about the way the body functions, but not about disease," Trisha Calvo, health and food deputy editor for Consumer Reports, explained to CBS. "So they can say something like 'burns fat,' but they can't say 'reduces the risk of obesity' because obesity is the disease."
Make Sure Nutraceutical Packaging is Legally and Aesthetically Up to Snuff
Once enterprises in the weight-loss industry have ensured their nutraceutical packaging updates are in compliance with United States Food and Drug Administration legislation, they are ready to turn their attention to making their stickers and labels pop. Low-quality label materials or washed-out printing do not exactly inspire confidence in consumers perusing different product offerings, so it's critical to roll out packaging that speaks to the professional nature of the company.
Aesthetics aren't the only important aspect, though - nutraceutical businesses also need to identify a way to impart information that neither compromises the label's design nor requires consumers to scour the packaging for details such as usage instructions and ingredients.
Order Inexpensive, High-Quality Custom Nutraceutical Labels from Lightning Labels
Finding a balance between quality and cost can be a challenge - especially for smaller companies - but Lightning Labels provides the best of both worlds. Thanks to its digital printing technology, Lightning Labels can offer economical unit pricing for both small and large quantities of custom nutraceutical labels, both short-run and for the long haul. Our high-resolution printing ensures a crisp, vibrant finish while also facilitating the inclusion of small yet highly legible text that's ideal for ingredient lists and instructions.
Request your FREE instant quote today.