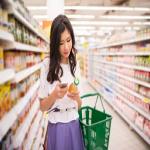 Intense Retail Competition
No matter the type of product in question, consumers today have a huge amount of choice. This means it's up to you to make sure your item is the most appealing one on the shelves - the visibly obvious choice. The label is the medium of choice to create visual interest, and it's up to you to work with designs and printing methods that are bold and catch the eye immediately. In a world where everything in stores is wrapped in labels, the brand that tries hardest will rise above the pack.
Some companies will use less sophisticated printing methods for their product labels, leading to simple designs that don't speak to customers. A simple, text-based approach, devoid of bright colors or high-resolution imagery, may be the result. By embracing a bold, image-based approach, you can make sure your items draw the eye first. Pictures demand more attention than words, and using such a strategy can make a great first impression on browsing shoppers. That split-second chance is where sales are made.
In the current retail age, loyalty to particular brands has never been more tenuous. People have choices and options by the dozen, no matter what they are looking to buy. While this sounds like an intimidating state of affairs, it can also be seen as a huge opportunity. Every time an individual enters a retail outlet, he or she is on the lookout for new and helpful products, willing to make choices on the spot.
Brands that use custom labels with eye-catching imagery can win the fight to get these customers to commit. Perhaps a high-quality and impactful image of the product in use will make a great label design. In the few seconds a person will spend scanning a shelf, an image has the greatest chance to make an impression. Of course, you need to ensure that the impression is a good one - working with premium materials and printing processes will make a brand look professional and competent, whereas lesser quality could give the opposite idea.
Work With A Top Provider
Contracting a third party to print labels is a way to make sure the process is carried out by experts and the resulting items live up to the ambitious designs your creative teams dream up. Plenty of time and work go into creating a good finished product, all building toward those few seconds when consumers will make a choice between one product and another. If one brand brings strong imagery to the table and another goes for a generic or sloppy design, the choice will be obvious.
Lightning Labels has earned its place in the top rank of printers not only through its dedication to quality, but by living up to its name and delivering quick turnaround times. Taking a labeling project from idea to execution shouldn't be a long ordeal. You need to add great imagery to your products right away to catch potential sales that may be slipping away this very minute. Quick action can lead to impressive results.