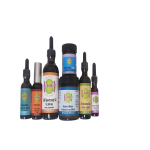 New hand sanitizer product, online ordering lead the charge
Taspen's Organics and sister company Dragonfly Botanicals Hemp CBD are helping chart the course through challenging current events. The Conifer, CO-based company just released a new hand sanitizer product and the online platform continues to supply a wide variety of products.
Among the holistic and wellness offerings of the company founded in 2007 are facial care, pain relief, restorative, bath and body, aromatherapy, tincture and hemp CBD products. The company began producing CBD products three years ago.
Kristy Canaday, Taspen's Organics & Dragonfly Botanicals Wholesale and Marketing Manager, says the hand sanitizer has something for everyone, with both alcohol and non-alcohol choices. She notes, "One version has 62% non-GMO Cane Alcohol, Colloidal Silver, Aloe Vera and nourishing Essential Oils. The non-alcohol version contains Colloidal Silver, Aloe Vera, Witch Hazel and Essential Oils. Colloidal Silver has its roots going back to the early 1800s. If you were rich, you grew up with a 'silver spoon in your mouth.' It's touted as a remedy to kill viruses and microbes."
Kristy adds that "This is a time where everybody wants clarity and transparency. Consumers can learn about every ingredient. Everything is a plant-based product of nature."
Countering the prevalence of chemical and paraben-laden products, Taspen's Organics and Dragonfly Botanicals Hemp CBD are devoted to natural remedies from its inception. Today, in addition to 100% plant based, pure products for adults, the company has offerings for children and pets.
To do their part during this difficult time, Kristy says that Taspen's Organics decided to donate 100 ounces of CBD to the first 100 people claiming it.
Relationship with Lightning Labels, the health and beauty products specialist.
Kristy says that Lightning Labels is tuned into their needs. She points out, "We've been thrilled so far. They approached us at a trade show and came back with the best prices, the best customer service, and the fastest turnaround time. Our account rep, Jillian, has been wonderful to work with. She's demonstrated kindness, flexibility and consistent ability to meet our timelines. We've been very impressed with Lightning Labels."
Taspen's and Dragonfly Botanicals Hemp CBD are showing the staying power and true grit we all need to get through the COVID-19 crisis. No doubt they will be thriving long after the virus has subsided.
Request your FREE instant quote today.