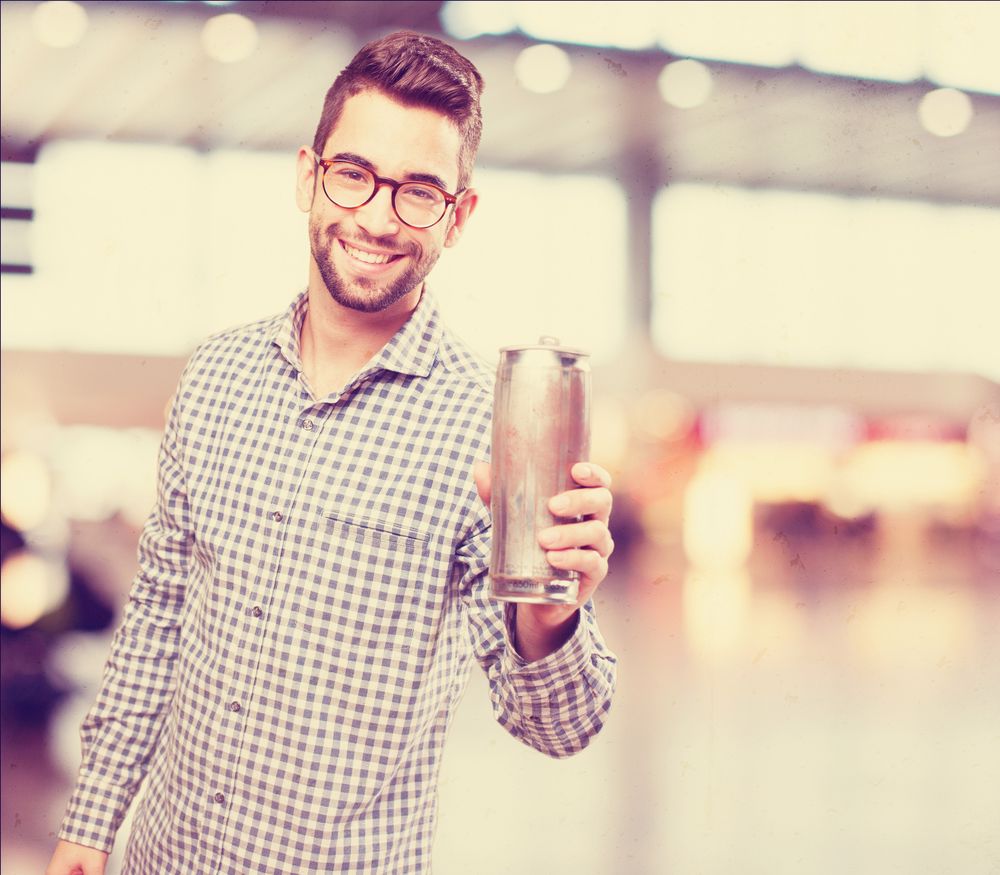 There's a new beer can format on the scene, and it's providing new opportunities for craft breweries. This is the Crowler, larger than a traditional can and sealed on site in a brewery or taproom. As such, custom crowler labels are becoming more in demand from breweries.
As an alternative to traditional aluminum cans or a glass bottle six pack, a beer Crowler is an exciting new way to package your beer. But there is one clear connection between Crowlers and traditional beer cans: Both types of containers need well-designed beer can labels to look their best.
Why is the Crowler on the Rise in the Craft Beer World?
The Crowler is a very distinctive kind of 32-ounce beer can. It's actually trademarked, with the official Crowler-sealing machine only available through Ball. It holds as much liquid as a refillable glass growler, but since it's an aluminum can, it's lightproof and fully recyclable.
Breweries have found plenty of success selling Crowlers in recent years, according to SevenFifty Daily. The COVID-19 lockdowns of 2020 created an especially pivotal moment for Crowler sales, with customers whose areas were closing down wanting to stock up on their favorite brews in large, convenient quantities. Furthermore, to-go beer regulations allowed more companies to get into the Crowler game.
Sending customers home from a brewery with beer is the primary use of the Crowler. By operating the machine at your headquarters or a taproom, you can open a new revenue stream. Of course, if Crowler sales are going to become an important part of your brewery's strategy, you'll have to think about what kind of beer labels to use on these large cans.
What's Your Brewery's Craft Beer Brand?
As with any kind of beer can or bottle, your custom Crowler labels should express your brand identity. This might mean bold illustrations or a simple minimalist design. The key is to craft a design that fits in with your other marketing materials and expresses the core values you associate with your brewery.
While the craft beer space is associated with bright imagery and in-your-face marketing, where every hoppy new brew's label seems to have a mascot or a punny title, your brewery doesn't have to take this route. If you're trying to create an old-fashioned speakeasy feel, for instance, your beer can labels can make use of engraved-style text art and rougher textures.
You can also focus on the local aspects of your brand identity to create a connection with your customers. A local landmark or map might serve as a good logo or image for your brewery.
No matter what kind of imagery best expresses your brand identity, it pays to make sure your Crowler cans have clear, well-designed beer labels. These custom crowler labels shouldn't peel off or fade when customers take the cans home. Your brewery's name and logo should stay clearly visible, so people will remember where they got that great-tasting craft beer.
How Do You Find a Custom Beer Label Printing Partner?
Crowler labels come with some specific needs. For instance, you'll need to find roll labels or sheet labels that match your application method. Will you be applying the labels to the cans by hand or on an automatic machine? You'll also need to make sure the beer labels are cut to the right size for the irregular 32-ounce cans.
It pays to work with an experienced partner such as Lightning Labels. With all-digital label printing processes to ensure sharp resolution, quick turnaround times and flexible order sizes, Lightning Labels has spent over a decade helping companies of all kinds, including craft brewers, meet unique labeling needs. To get started on making your Crowler packaging strategy a success, request a free instant quote now.